One of the many fun local photographic opportunities is to shoot the Blue Angels when they come to San Francisco for Fleet Week. Today's breaking news is that the #6 plane crashed while performing at an air show in Beaufort, S.C.
Pilot Killed in S.C. Blue Angel Crash – San Francisco Chronicle
I haven't seen a report who the pilot was that died in the incident, but my heart goes out to his/her family (see update below) Blue Angels Official Web Site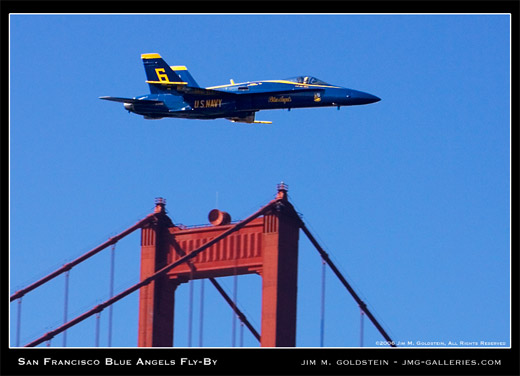 This photo of Navy Blue Angel No. 6 was taken just this past October.
Update:
Blue Angels Crash Kills Pilot – SF Chronicle
"The No. 6 jet was piloted by Lt. Cmdr. Kevin Davis, 32, of Pittsfield, Mass." In this article it is noted that during the 2006 performance in San Francisco Lt. Cmdr. Kevin Davis was the team's narrator and provided flights to lucky members of the media.
My best goes to the family of Lt. Cmdr. Kevin Davis.
[tags]Blue Angels, accident, Navy, air show, jet, F-18, crash[/tags]