A very rare sighting during trip through the Arctic National Wildlife Refuge, a prematurely born Caribou calf migrating with a small herd to the coastal plain. Normally calfs are born on the coastal plain. This small herd was looking to cross the Kongakut river which was quite wide and fast moving at this junction. They eventually opted not to cross. The herd easily had 30-40 miles to go to make it to the coastal plain where hundreds of thousands of female Caribou normally give birth and nurse their young. With fast moving currents in the river and the constant threat of predators (bears and wolves) this calf faced long odds of surviving the migration to the coastal plain.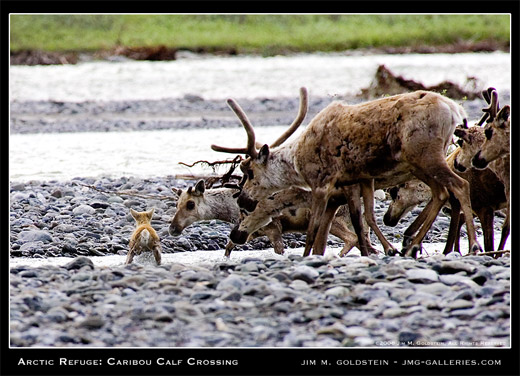 Click here to view a larger version and other Arctic National Wildlife Refuge photos
On a side note I'm happy to report this photo was recently selected as a photo of note in the 2007 Environmental Photography Invitation. If you're interested in learning more about this photo and the Arctic experience as a whole check out the following podcasts: EXIF & Beyond: Wildlife Photography In The Arctic (Part II) and EXIF & Beyond: Wildlife Photography In The Arctic (Part I).
[tags]Arctic National Wildlife Refuge, arctic refuge, caribou, Rangifer tarandus, Kongakut river, coastal plain, photo, photography, EXIF and Beyond, podcast, wildlife, nature, migration, Porcupine herd[/tags]