Michael Brown at "Macro Art In Nature" is running a "self critique" photo blog project for images falling into the theme of "Flora/Foliage (Up close)". I'm not a dedicated macro photographer, but I do enjoy experimenting in this area. More than anything I'm looking forward to seeing what others who read his blog submit as part of the project. For your viewing pleasure…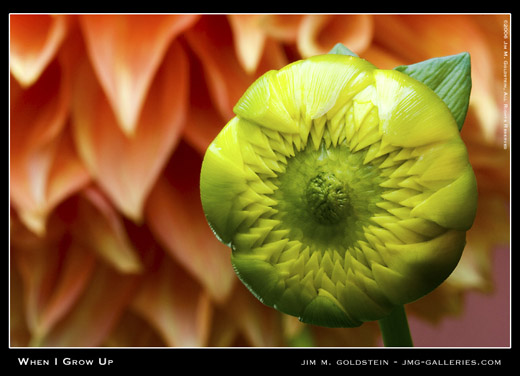 click here to enlarge
Although I find floral macro photos to be among the most beautiful genre of images, I seldom take advantage of opportunities to capture such images. This image is one of two images that I feel represents my best floral macro photograph. What attracted me to this subject is the story of new and old as well as the flower structure. The contrast of bloom cycles for the Dalia and flower color is what helps provide the photos visual impact. I've also been told that the title resonates with viewers adding to their enjoyment of the photo.
Taken on an overcast day for even lighting this might have been improved if had used a diffuser to minimize the glare at the top of the Dalia bud in the foreground. I didn't focus on this component of the image as much as I had focused more on the composition and selection of depth of field. One major flaw to this image was dozens if not a hundred spots, mostly small, from a dirty sensor. Spotting this image was a major chore and if I were to do this again I'd clean my sensor before the shoot. Hopefully I didn't miss any spots.
Having recently printed a 16×12 of this image the detail and sharpness is spot on. This high level of detail and sharpness is something I had aimed for when preparing this shot. Looking at this image online or in print I'm continually fascinated by the emerging petal structure in the bud. Dahlias are a fascinating flower and I look forward to experimenting with them more in future macro shoots.
[tags]project, self critique, Macro Art In Nature, macro, photo, photograph, photography, dahlia, flower, flora, foliage[/tags]