The terms "magic hour" and "golden hour" are often used interchangeably, both describing the same lighting phenomenon. The "golden hour" is the hour after sunrise and before sunset when the light is less intense and fittingly golden. At this time sunlight shines through the earths atmosphere at a more acute angle resulting in wavelengths of light, other than red, being scattered at a greater frequency. The net result is redder more golden light making its way to the Earth's surface. Additionally the acute angle that sunlight falls at this time creates dramatic long shadows for higher contrast imagery and highlights are less intensely lit compared to other times of day.
The "golden hour" is coveted by photographers as the warm light enhances a variety of subjects from landscapes to portraits to cityscapes.
Curious about the impact of smoke, pollution and/or clouds on the "golden hour"? Then I recommend reading The Colors Of Twilight And Sunset by Stephen F.Corfidi
An example of "golden hour" light falling on the Marin foothills in California.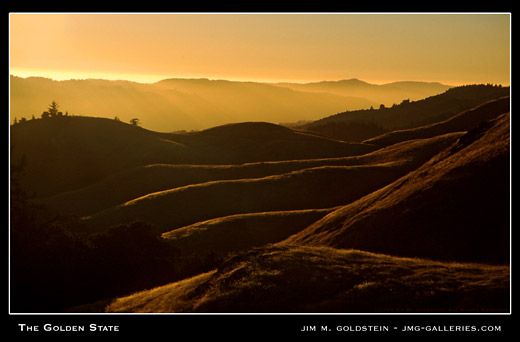 More of the Photo Term Series
[tags]photo, term, terminology, golden hour, magic hour, sunset, sunrise, California, landscape, Marin, foothill[/tags]