This weekend I was back in Los Angeles visiting family and couldn't help myself in going out to photograph some areas I've long been meaning to. Being a little rushed before flying out I forgot to bring freshly charged batteries for my camera. The result was a weekend of shooting on a batteries 1/3rd fully charged and another 1/8th fully charged. Yes, I'm embarrassed to say I fell prey to a variation of #5 of the 5 Most Common Digital Photography Mistakes.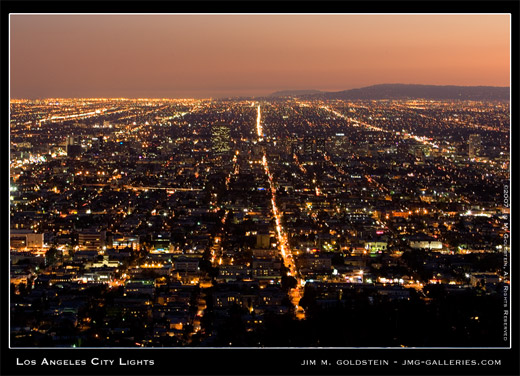 Los Angeles City Lights
In the end it all worked out and I got most every shot I wanted, but only after I employed a trick of the trade for freshly dead batteries. Even after my batteries first died I was able to get another 20 or so shots out of them. The trick, at least when in cold weather, is to warm your batteries.
Shooting on a cool winter evening in Los Angeles putting my batteries in my pant pockets for as little as a few minutes would extend their life. I was able to do this a few times, but eventually I succumbed to the inevitable… dead batteries.
The best solution of course is to plan appropriately when it comes to battery power, but if you're in a bind try the battery warming method to squeeze out a few more shots.
[tags]Los Angeles, photo, California, battery, trick, battery life, photography[/tags]