This weekend I got to take a peek at the Photophlow site that is now in a limited beta and experience the Flickr community like never before. At the moment the site is growing through an invitation only process not unlike Googles Gmail back in the day. What is unique about Photophlow is the truly real-time discussion of photography in a very clean interface.
It's not often that a site comes along building on Flickr's API that in itself is superior to the original. Photophlow has a very intuitive and clean user interface that enables multiple people the opportunity to navigate, search and discuss photographs collectively. These discussions occur in rooms, not unlike the old IRC model for discussion rooms, that are open to the public in the instance of the "Welcome" or "Photophlow" room, are tied in parallel to existing Flickr groups or are rooms of the individual user.
The photos display from small thumbnail to a small preview with the ease of a mouse over and clicking on an image will load the medium size image for all to see in a particular discussion area. Users can discuss the image in the room and/or comment/fave the image which is also registered on Flickr. Along with the medium image display is basic image, EXIF, copyright licensing information, description, tags, photographer and the person that initiated the discussion about the image.
A very cool feature is the embedded search terms that highlight automatically as links with in discussion entries. This is a great mechanism for free form exploration of the Flickrsphere and takes the powerful search in Photophlow to another level. Notification features are also embedded in the site so that users can be notified of activity via email, IM and Twitter. If you have a Tumblr account you can port interesting photos to your tumblog. All this functionality combined with the active photographer community equates to a very addictive environment.
If you're big on photography and are part of the Flickr community keep your eyes peeled for available invitations.
Photophlow Screenshots: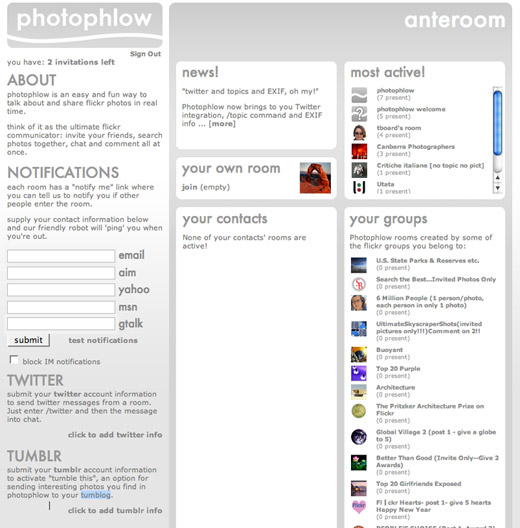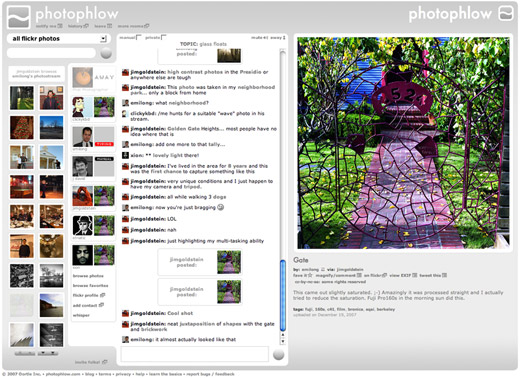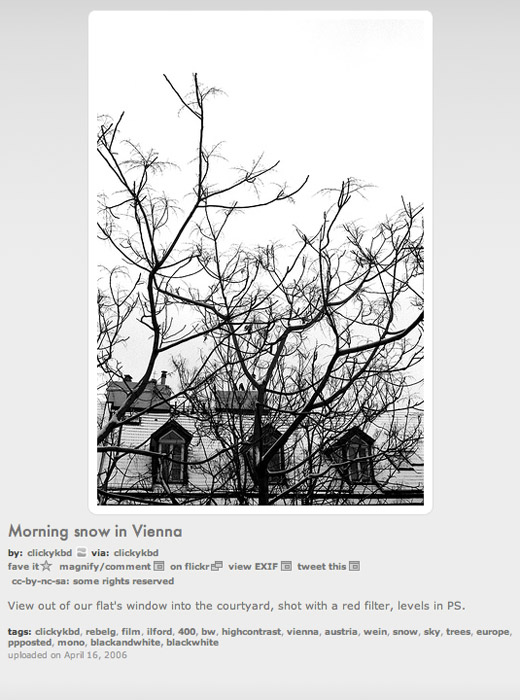 Photo courtesy of Ryan Gallagher
[tags]photophlow, flickr, photography, web, community, screenshot[/tags]