Thursday it was leaked that the Mavericks Big Wave Surf Contest is being called to take place on Saturday January 12, 2008. If you're in the area and are thinking of witnessing the spectacle for yourself read up on access restrictions and alternate locations to view the surf contest such as at AT&T Park on the big screen. Odds are unless you have a mammoth lens and can tolerate sitting in mud on a precarious cliff side perch viewing the event is best seen at AT&T Park.
Check mavericksurf.com for the latest information.
Also be sure to check back to view the latest Mavericks photos from the 2008 surf contest in my new Mavericks Surf Contest photo gallery.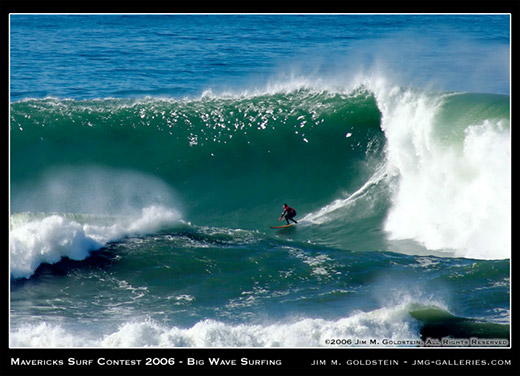 Mavericks Surf Contest 2006 – Big Wave Surfing
Previous years photos and write up:
Mavericks Big Wave Surf Competition 2005Â  and Mavericks
Big Wave Surf Competition 2006
[tags]Mavericks, surf, contest, competition, 2008, photo, photography, California, Half Moon Bay[/tags]