There is a lot to be said for keeping an image clean and simple. You would think this would be an easy thing to do, but whether in the city or the backcountry isolating your subject can be quite difficult. Distracting elements such as cars, buildings, people, trees, rocks, even bright spots can easily pull a viewers eye away. Techniques that work in isolating a subject include changing perspective, changing location, using a shallower depth of field, narrowing your field of view, etc. The means of isolating a subject vary based on the circumstances, and sometimes it can be a bit of a puzzle to sort out.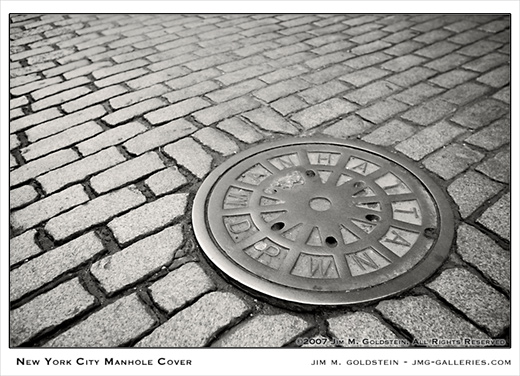 New York City Manhole Cover – Manhattan, New York
In this instance I opted for the following mechanisms to simplify the scene:
1. I walked around my subject to find the best angle of view.
2. I carefully timed my presence in the street to kneel down low to change my perspective
3. I chose a focal length that kept cars and passing traffic out of the scene
4. Selected a composition that would lead the eye to my subject.
5. In post-production I converted the image to black and white to keep the focus on the shape and texture of my subject.
As they say your mileage will vary so experiment with your subjects and keep your patience when looking to isolate your subject for a clean and simple photo.
[tags]New York city, Manhattan, New York, manhole, street, SoHo, texture, b&w, black and white, stock photo, photography, photo[/tags]