I don't talk about it much, but in addition to photography I'm also a web strategist with over 10 years of web marketing experience. On a day to day basis I'm constantly exploring and using a variety of web services and technologies that enable me to more optimally market my photography, track trends and track instances of copyright infringement. I've begun to take some of the core services and technologies I use on a daily basis for granted, but a recent conversation with a friend refreshed my perspective on this. As a result I wanted to take advantage of my recent epiphany and share 5 services/technologies I think are invaluable to photographers marketing their work online.
5. Google Reader
This online and free RSS reader is extremely well designed and easy to use. First and foremost RSS readers in general are a great way to access and read articles quickly minimizing the time it takes to open and load web sites individually. At a minimum I would recommend using this RSS reader if not any reader for that matter to improve ones productivity. One nice thing I finally took the time to do is to create a custom tab to display the top 7 sites I like to keep tabs on. The end result is a fast way for me to check the latest additions to 7 sites in one quick glance.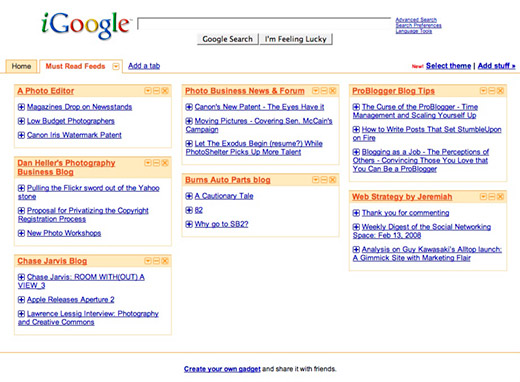 4. Del.icio.us
Del.icio.us is a social bookmarking site. Rather than keeping your bookmarks tied to a local machine you can save your favorite bookmarks to this web site. If you're on a machine different than your own you can login and access your bookmarks anywhere. In addition you can tag bookmarks, add friends to your network to view and share recent bookmarks and you can also employ widget functionality on your blog to display recent pages that you've bookmarked. At a minimum I use this to consolidate and improve the searchability of my bookmarks. The site has been invaluable as I move back and forth between different machines.
3. Flickr
For all its flaws I'm still a believer in Flickr. Why? Pure and simple ease of use and traffic. The site is dirt simple to use… sometimes to its detriment as people pilfer photos from the site, but as a photo publisher/fan you can't beat the ease of viewing and searching photos. This leads to my point about traffic on Flickr. Flickr is the 800lb gorilla of image sharing sites. With 2+ billion images in their system a lot of eyes are drawn to the site. As a marketer there is a saying… "fish where the fish are". Casting a line out to see if you get any bites for sales/licensing opportunities is hit or miss, but as time has shown it does happen. My recommendation to fellow photographers on Flickr… avoid giving your work away for free and learn when to cut your losses with someone inquiring about using your work. If someone is contacting you about using your image it has value to the person, recognize this and negotiate.
2. Technorati
Technorati is a blog search engine. It's a great resource to look for content, track blogs you like, track your blog authority, fans of your blog and set up keyword based Watchlists. Technorati is but one of many blog search engines, but it is one that is particularly well known. If you're putting your photographic work online it pays to use the service to track references of your name and/or domain. In the process you may just discover your images being used without consent or in ways you might not approve of.
1. Google Alerts
Similar to Technorati Watchlists I've set up Google Alerts for my name and my domain name. Google Alerts then sends me regularly scheduled emails identifying new content including my specified search terms. Links are provided in the email to click through to see the page containing the specified search terms. This has been the number one tool I've used to identify inappropriate use of my photography online.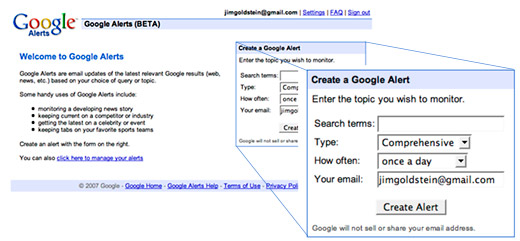 Google Alert Sign-Up Page


Google Alert Email
[tags]Google, alert, Technorati, services, technology, photographer, photography, photo, copyright, infringement, tracking, Flickr, RSS, reader, Del.icio.us[/tags]