Recently I've been reading a lot of news stories demonizing Coyotes coming into suburban environments. It wasn't that long ago that two coyotes were killed here in San Francisco and I thought I would post a photo of a typical Coyote encounter.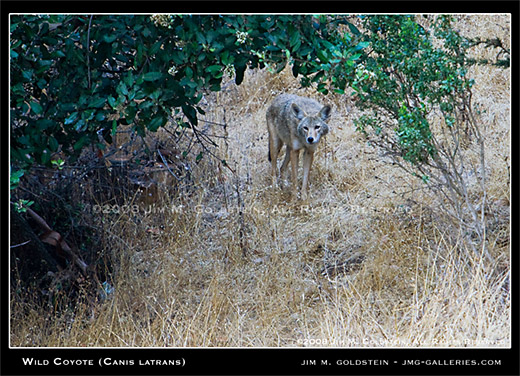 This Coyote like most others was very shy and was waiting to come down from the hillside early one morning only when it saw no one else around. Very skiddish it was only interested in hunting small rodents and birds in a near by meadow. As soon as I became visible this Coyote was quick to run off back into the safety of the dense foliage in the near by hills.
The problem I have with the demonization of Coyotes or other predators by the press is that they portray human-animal interaction in a very one-dimensional fashion. Seldom is there any note of how humans impact and condition animals to become acclimatized to us.  The build up of our trash, people feeding wild animals, etc. all contribute to these animals losing their innate fear of us. Unlike Raccoons, Skunks, Possums or other common urban wildlife that we often ignore, if not accept as denizens of our neighborhoods, Coyotes like many other larger predators, get the short end of the stick and pay the price of such acclimatization to humans with their lives.  There aren't too many advocates for  these animals, but one day I hope to see that  we hold people accountable on some level for their part in these common and increasing human-animal conflicts.
In the case of Coyotes they get a double whammy when it comes to conflict with humans. The lack of predators in our neighborhoods results in a booming population of prey that initially draw Coyotes into our neighborhoods. When not hunting natural prey they become acclimatized to foraging in our trash or hunting small pets. it's a tough balance for Coyote and humans, but sometime in the future I hope better civic and state policies are identified and put in place to minimize the killing of these predators and increasing public respect for local wildlife.
[tags]coyote, urban, wildlife, photograph, photo, stock photo, Canis latrans[/tags]