One thing over the years that I've learned is to never keep your eyes too far off into the distance when trying to get your next photo. While photographing seascapes in Monterey, California I was rock hopping and paused to see what exactly I was hopping over. I was pleasantly surprised to see sea anemones in a rather small tidal pool. With a nice overcast sky I took the opportunity to switch out my wide angle lens for my macro lens and photograph them. Fortunately for me they were very cooperative subjects unlike the sneaky surf that caught me in a later photo (more on that later).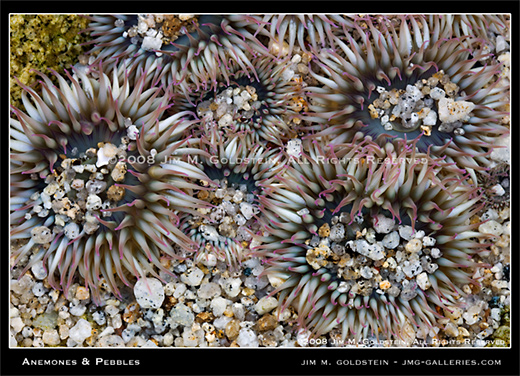 Sea Anemones & Pebbles
For the techies who read every word of my posts I should add this is one of the first macro photos taken with my Canon 1Ds Mark III. The detail in the full size version of this photo is mind blowing. If curious I can post a 1:1 crop later to give an example of the detail captured.
Update: See below for the 1:1 crop of the image above. The detail captured from the 21MP sensor in the 1Ds Mark III never ceases to amaze me. The native image resolution is 5632 x 3750 pixels. Enjoy and do take advantage of clicking on the image to enlarge it.

Click to enlarge
[tags]anemones, tidal pool, pebbles, photo, photography, stock, California, coast[/tags]