California's coastline is hard to beat as a photographic subject. I've seen just about every mile of the California coastline from San Diego to the Oregon border and to this day one of my favorite areas is the coastline along Big Sur, Carmel and Monterey. What makes this stretch of coast so photogenic is the combination of surf, coastal rocks and rich kelp beds.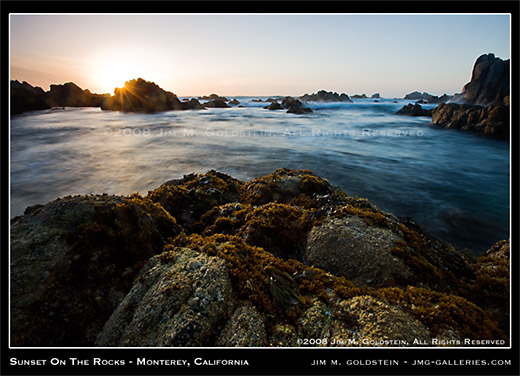 Sunset on the Rocks – Monterey, California
View more photos of Monterey, California
From a photography perspective when taking coastal photos you always have to be careful and keep an eye on the surf as I've blogged about in the past, especially if you plan on getting up close and personal. After all it only takes one rogue wave to ruin your day and potentially take your life. On this day I timed my visit to coincide with the tide transitioning from high to low tide. Before setting up shop I thoroughly scouted out this area to find not only a photogenic subject but a safe spot. As a precaution I tucked my camera bag with my other gear higher up and farther back from where I set up. For this photo I decided to take a chance with a very wide focal length (16mm) and getting very close to my subject (a matter of inches). This particular set of rocks was only a couple of feet above the water line and the front element of my lens was only a few feet from the waters edge. With one eye on the waves in the distance and the other on my subject I captured quite a few photos.
As most experienced coastal photographers know my setup was rather precarious. Although I knew better I decided the photo was worth the risk. Well it didn't take long before I got a little too into my subject and realized while looking through my lens that a wave was getting a little too close for comfort. Only problem is when looking through a wide angle lens by the time you notice something close up it is REALLY close up. I was able to pick up my camera still attached to my tripod, shield it with my body and take two steps before I got clobbered from behind by this wave.
I really got soaked and although my camera and lens were wet I was able to dry them off rather quickly with the few patches of dry clothing I still had. I ended up trekking back to my car to wipe down my clothing with a towel, inspect my camera and air dry while enjoying the glare of several people who took in my "genius" moment. I ended up deciding not to test my luck again with that particular photo, but did endure the chill of my soaked clothing for another hour or two to capture a few more photos later in the evening from this very spot. I'll post one or two of those images another time.
The California coast… beautiful, but always unpredictable.
[tags]Monterey, California, sunset, photo, stock photo, photography, coastal, seascape, wave[/tags]