Up until recently it's been nearly impossible to know for certain where your online photos might end up on the Internet. As we've heard over the years a growing vocal minority will be the first to jump on photographers complaining about online image theft stating "Get used to it. You put it online. That's how it is." This argument is anything but true and frustrates the hell out of photographers who know better.
It's become clear there is a growing interest in new technologies to address the current "wild west" nature of image theft on the Internet by stock agencies and individual photographers alike. Google recently released a research paper on VisualRank that like text search assigns a weighting and ranking to images while also leveraging image-recognition software methods. Although Google is the 800 pound gorilla of search they've been beat to the punch by Idée Inc. who recently released a private beta of TinEye. As you'll see in TinEye's demonstration video they've created an image search that is as simple as a Google search. All an end user has to do is reference an image online or upload a low resolution image and TinEye returns results of where that image is currently found online. What is most impressive is their image matching technology that will match similar images even if they've been cropped, resized or Photoshop'd.
I am a born cynic, but after putting TinEye to the test with some of my photos I've quickly become a believer and can't wait for them to expand their search index and hopefully implement a Google Alert like service. At the moment they've indexed a relatively small portion of the Internet (roughly 500,000,000 images), but they're asking beta testers to recommend sites to index. The service at the moment is rather narrow, but I can see where this has legs to quickly expand.
Just to show an example I decided to search one of my more commonly referenced photos of the Rockefeller Center Christmas Tree in New York City. The blog post containing this image has been accessed nearly 50,000 times and it is one of my most popular photos. With out a doubt I knew this would end up somewhere it was not supposed to. In the past by monitoring my web site log I've caught a few people using the image with out my knowledge, so I figured this would be a perfect example to test on TinEye.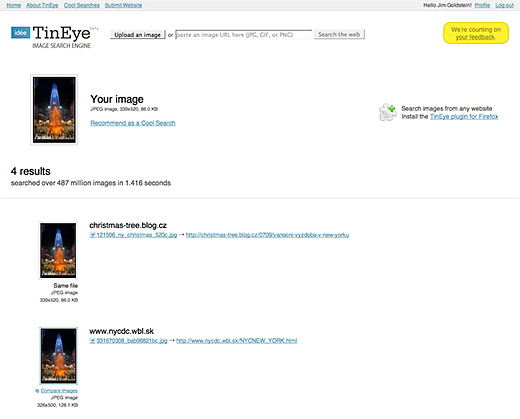 Click to Enlarge
Sure enough I referenced the image on my blog and found a few more sites (see above) that had slipped by me who have been using my photo without my knowledge or permission.
Granted the jury is still out with TinEye, but my initial experience has been a good one. The simplicity of the interface, the image-recognition capabilities and speed at which it finds images has caught my eye. I'll definitely be watching TinEye as it develops and provide feedback through its beta stage.
If you're curious to try TinEye let me know in your comment to this post. I have 50 invites that I can share.
[tags]copyright, photo, image, search, theft, technology, TinEye[/tags]