One of the more exhillerating aspects of being in the field is when you're traveling at just the right pace to stay ahead of an approaching storm. Such was the case as I traveled through Utah and Wyoming last week. By the time I arrived at the Grand Teton National Park the storm that was on my tail had started to roll through. Once I settled on a location to photograph the Tetons I was able to enjoy the show.
It's one thing to snap a photo of a dramatic landscape such as this, but it is another to see and feel the wrath of Mother Nature in the process. Gusts of wind, rain and varying intensity of light made for a great show and a challenging capture. Although the light was rather muted at this particular moment later in the evening there was quite a light show. Photos of that will follow in the coming days.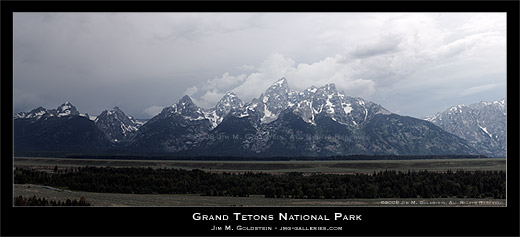 Click to Enlarge
This was the second largest panoramic I created on my short trip. The original size is 16,000 x 7000px, enough resolution to produce a 300 DPI print at 4 1/2 x 2 feet. Photos like this remind me it is time to upgrade my printer. Fear not the large version linked above is only 1400px wide. Enjoy.
[tags]Grand Teton National Park, mountain, NPS, landscape, photography, panoramic[/tags]