Urban Coyotes in San Francisco are again making news. Earlier in the summer another Coyote was shot and killed by California Wildlife Services in the Presidio. On top of that another Coyote was reported killed today in the Presidio after being struck by a car.
Hunters shoot aggressive coyotes in Presidio – San Francisco Chronicle
Word is that the San Francisco City Board of Supervisors will be taking up the topic to address public concern. This is starting to get greater visibility in local news. I was interviewed Thursday by KRON News on the matter and tried to share a balanced concern for public health & safety while keeping an eye toward a modern wildlife conservation effort.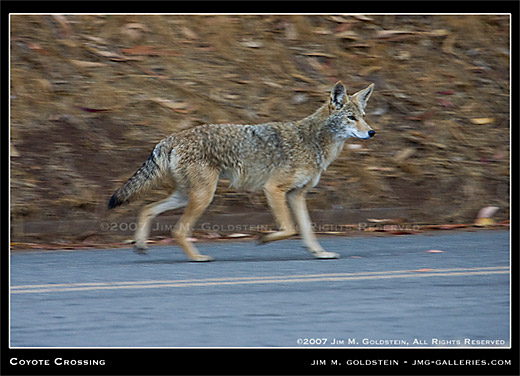 More Urban and San Francisco Coyote Photos & Articles

If you're a pet owner like myself be sure to keep your pets supervised and on leash in addition keep an eye out for Coyotes at dusk and in the evening. Also if you're driving be careful at this time as well. Coyotes are swift creatures but not swift enough to dodge a fast moving vehicle. That being said I do hope that local officials and the California Department of Fish and Game think out of the box in how to manage the situation. Predators can't continuously be eradicated while their prey explode in population in urban areas. With a little luck and proactive management San Francisco can avoid a panic about Coyotes.
[tags]Coyote, San Francisco, News, Presidio, California Department of Fish and Game,  Canis latrans, wildlife, photography, stock photo[/tags]