It's been a great year for photography, perhaps even better than last year, and as 2008 nears its end I thought it would be fun to select my favorite photos from the year. I had a tough time narrowing things down so here they are…
Honorable Mentions:
Honorable Mention #5:
Pike Place Market

One thing I love about taking travel photos is the constant challenge to find a new perspective. While I got odd stares from passerbys I knew as soon as I set up for this photo it was going to work. With a little creativity even a location you'd think can't yield a new perspective can surprise you.

Honorable Mention #4:
Sea Otter Portrait (Enhydra lutris)

This year I've made it a project of mine to photograph California Sea Otters and introduce as many photographers to them as possible through my photo tours. This particular otter was enjoying a rare spot of sun with a dry and groomed face. The foreground is his slick wet stomach. It just goes to show you how different their fur can be wet and dry.

Honorable Mention #3:
Zip Line Adventure – Maui, Hawaii

Maui proved to be full of photographic opportunities. Documenting the Maui Zip Line Adventure was a blast and one of the major highlights of the trip. As if the zip line wasn't enough to get the adrenaline flowing, securing a 1Ds Mark III to your chest in addition was a guarantee to get the heart racing.

Honorable Mention #2
Bobcat (Lynx rufus), Yosemite II

I'm not sure I could have coached this wild Bobcat to pose any better for me. To be honest it was hard work tracking this cat and getting into position well before it would reach me… all while not disturbing it. This was definitely one of the best wildlife encounters I had during the year.

Honorable Mention #1
Bring Your Own Big Wheel 2008 – Happy Easter

Adventure seeking adults +  plastic wheeled tricycles + a very steep and winding San Francisco street = hilarity

This event has proven to be one of my favorite to photograph. I can't wait for BYOBW in 2009.

Featured in Bring Your Own Big Wheel 2008 Photo Highlights
My Top 10 Favorite Photos of 2008:
#10: Cable View Panoramic, Golden Gate Bridge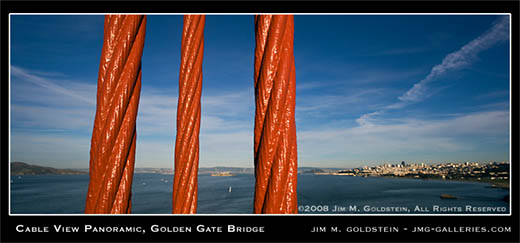 Featured in EXIF and Beyond: Mastering Digital Panoramic Photography this panoramic photo taken with a 24mm Tilt-Shift lens has proven to last the test of time. I find myself drawn to this image as much today as I had been the day I took it. The fresh perspective, textures and scale of the scene are elements of the photo that continue to draw me in.
#9: Say Cheese!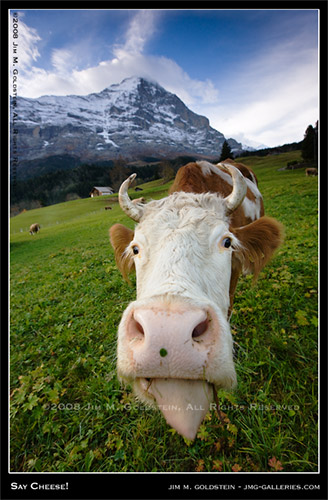 Portrait of a Swiss Cow in a Pasture with Mount Eiger in the background.
For the record no tongue ever touched my lens, but it was close. Fortunately for me this bovine was quite docile and didn't push me down the hill or pull me into an electric fence I was straddling.
#8: California Sea Otter & Pup (Enhydra lutris)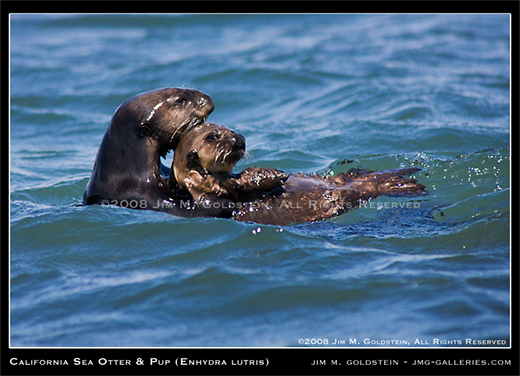 This quick bonding moment between mother and sea otter pup occurred shortly after an over amorous male tried to "divide and conquer". The female otter was able to simultaneously fend off the male otter while protecting her pup. It was high drama with a happy ending.
#7: Bobcat (Lynx rufus), Yosemite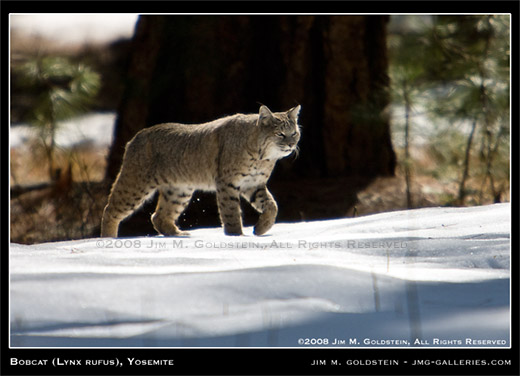 The sight of wildlife in the snow at Yosemite always amounts to dramatic imagery. With out a care in the world this Bobcat was trekking through a snowy meadow. As mentioned this was likely the wildlife encounter of the year for me. While I got much tighter photos of this cat I find this environmental photo to be my favorite of the set.
#6: California Sea Otter (Enhydra lutris)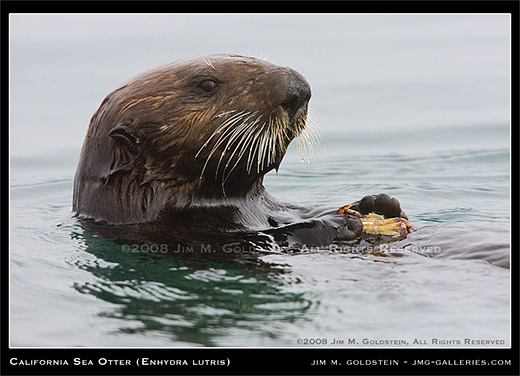 The last California Sea Otter photo of my Top 10 set is a portrait of a feeding Sea Otter. This otter made fast work of this crab, but seemed to pause momentarily (in reality a split second) so as to pose for me. What makes this photo special to me is the detail of the otter's features including the fur, ear, whiskers and paws.
#5: Heron Pond Reflection – Grand Teton National Park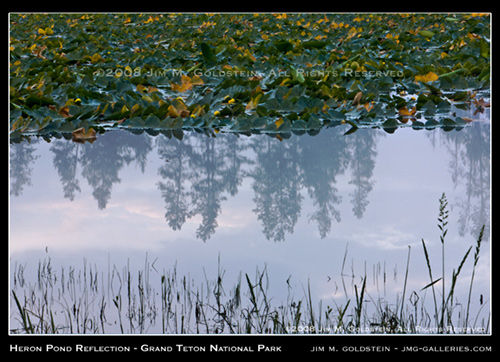 Morning hikes at Grand Teton National park are among my favorite both for the ethereal beauty of the landscape and the awe inspiring encounters with elk. If you've never been, Grand Teton National Park should be on your short list of places to visit. The mountains are incredibly beautiful, but the surrounding lakes and rivers are rich with life and intimate nature photo opportunities. This pre-dawn photo attracted my eye both because of the pastel hues of the fog filled sky and the layers of vegetation filling the frame.
#4: Mavericks Surf Contest 2008 – Long & Sterling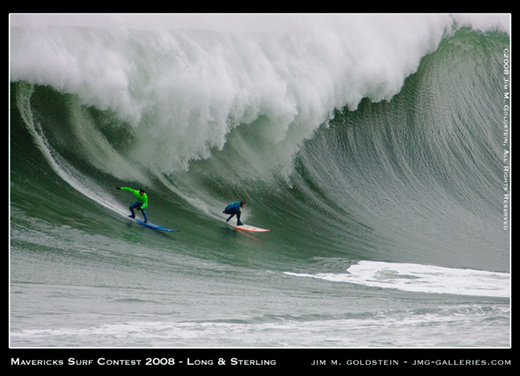 The biggest wave of the day at the 2008 Mavericks surf contest was no doubt the most dramatic. The sheer size of these waves is amazing, the surfers are incredibly skilled and the event is a blast to photograph. While this photo highlights the scale of the wave to an individual surfer, it will unfortunately never relay the earth rattling roar of the water.
#3: In Time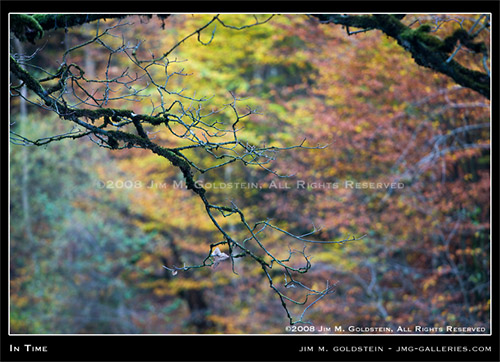 Taken in Switzerland this past fall I found myself irresistibly attracted to the fall color of the trees. The jagged form of the bare tree branches juxtaposed against the backdrop of fall color was one that I enjoyed exploring. This particular photo is one I find myself returning to view over and over again.
#2: Matterhorn Reflections, Switzerland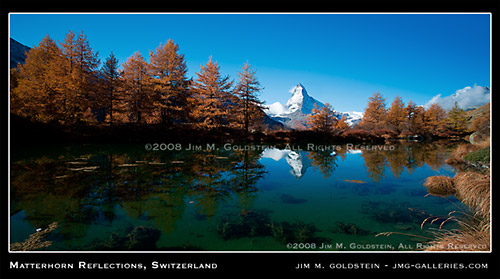 Unequivocally this day was the most beautiful of all my days spent in Switzerland. High above Zermatt I enjoyed taking in the morning light as it illuminated this alpine lake. This scene was too beautiful to confine to one frame so I created a 3-photo panoramic using my 24mm Tilt-Shift lens.
Note: For those in the U.S. unlike North American conifers those in Europe turn golden before their needles are shed. This took some time getting used to this. I kept thinking the trees were being killed by a bark beetle.
#1: Behind the Veil, Snake River – Grand Teton National Park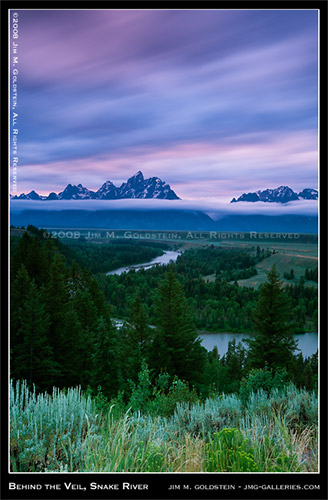 When Mother Nature puts on a light show in Wyoming she goes all out. This photo was taken after a substantial storm moved through the area. As the storm began to clear a hole opened in the clouds far beyond the horizon. This opened a path for the last rays of sunlight to paint the clouds and peaks of the Grand Tetons with amazing red light. Even more impressive to me was the unusual phenomenon of low lying clouds creating a thin veil conceiling the mountains. All around this was a magical scene to take in and one I'll cherish for a long time to come.
[tags]landscape, photography, wildlife, stock photo, travel, photo, best of 2008, favorites of 2008, best of,  Mavericks, surf, Grand Teton National Park, Switzerland, Matterhorn, San Francisco, Golden Gate Bridge, Seattle, Pike Place Market, Sea Otter, Enhydra lutris, Maui, Hawaii, zip line, Lynx rufus, bobcat, Yosemite, Yosemite National Park, BYOBW, Bring Your Own Big Wheel, fall color[/tags]