Tuesday evening began with a beautiful moonrise here in San Francisco. For once I was available to take advantage of this event and the weather was nice enough to get out to try and photograph the moonrise over downtown. For the astronomy inclined I found out this wasn't the right time of year for the photo I wanted, but before I realized this I crossed paths with two local photographers. First while setting up at the California Palace of the Legion of Honor I met Ron Pepper who specializes in 360 degree panoramic and HDR photography. Ron was trying out his new Nikon 12-24mm lens on a photowalk with his girlfriend. Just as our conversation was ending I was approached by another photographer inquiring about my setup… that turned out to be Dan Heller who I haven't talked to in a few months. Dan just got back from a trip in Southeast Asia and was out with friends to photograph a time-lapse of the moonrise. By the end of our catch up session we decided we were too far south to catch the moon over the skyline and traveled north to the southern entrance to the Golden Gate Bridge. It just wasn't the right time of year to get the photo I envisioned. None the less I made a go of photographing the moonrise and had a blast in the process.
What I got: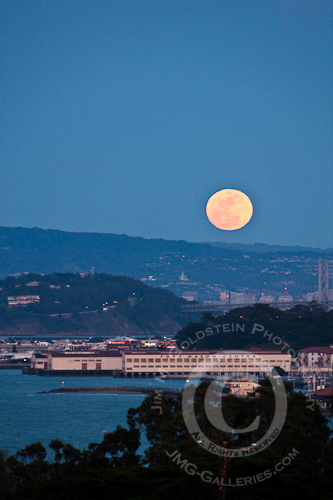 Moonrise over San Francisco's Fort Mason
What I wanted: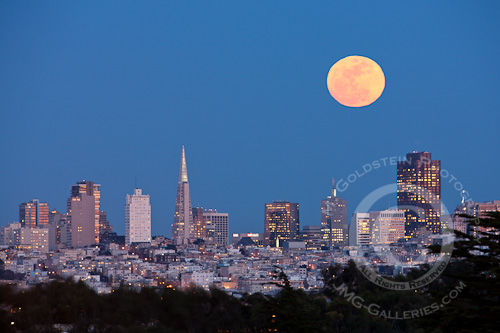 Moonrise over San Francisco's Downtown Skyline
On a side note I brought one of my dogs with me on this outing. While the downside of this was a few blurred photos from my dogs leash resting on my tripod leg, the upside was my dog getting my attention to let me know a raccoon was working his way through a trash can behind me. By that time it was too dark and I was too cold to try and photograph the critter. The experience made me think how focused I get and how many "raccoon encounters" I've likely missed over the years.
[tags]San Francisco, Photography, Stock Photo, downtown, skyline, moon, moonrise, full moon[/tags]