It's been a couple years, but the Mavericks Surf Contest in Half Moon Bay is due to take place this Saturday. Some highlights from the last time I was out to photograph the event are in the following gallery.

Mavericks (Featured) – Images by Jim Goldstein
If you're looking to brave the trip out be warned there is massive traffic congestion, horrific parking, historically large crowds and limited viewing opportunity on the cliffs. The event is amazing to witness even still, but if you plan on heading out be prepared for the worst. The organizers have set up viewing areas so be sure to visit the Mavericks web site for up to date info along with an interactive Webcast of the event.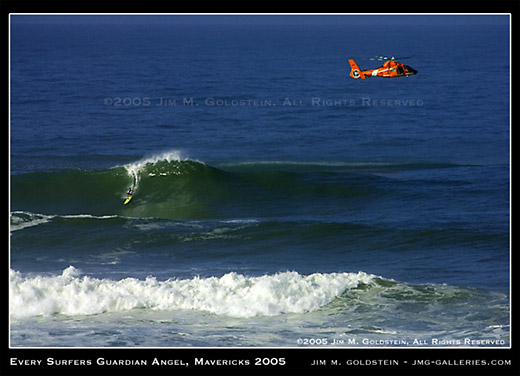 Every Surfers Guardian Angel, Mavericks Surf Contest 2005
If you don't heed my warnings be sure to read my past write ups on photographing Mavericks:
[tags]Mavericks, surf, contest, wave, Half Moon Bay, Pillar Point, California, sports, photography[/tags]