Canon 1D X – It's not the gear it's your creativity behind it.
What would you use the Canon 1D X for?
Here are the features that caught my eye in order of interest:
In-camera image composite
Up to 9 images with 4 different compositing methods are provided for maximum creative control, including Additive, Average, Bright and Dark. Compositing results can be viewed in real time on the camera's LCD monitor, and there is a one-step Undo command that allows photographers to delete an image and try again if desired.
Low light capabilities with super high ISO
ISO range is 100 to 51,200, but the EOS-1D X offers ISO 50 and 102,400 at H1 and 204,800 at H2
Lower megapixel sensor with larger pixels
The camera sensor sports pixel size of 6.95 microns, 1.25 microns larger than those in the EOS-1D Mark IV sensor and .55 microns larger than those in the EOS 5D Mark II sensor
Video improvements
New compression formats, improvements to reduce moire and the following  frame rates of 24p (23.976), 25p, or 30p (29.97); and 720p HD or SD video recording at either 50p or 60p (59.94)
Plopping down $7K for a camera is not for the light hearted so its not something I would do unless I felt I could produce something truly unique. (see my take below the image)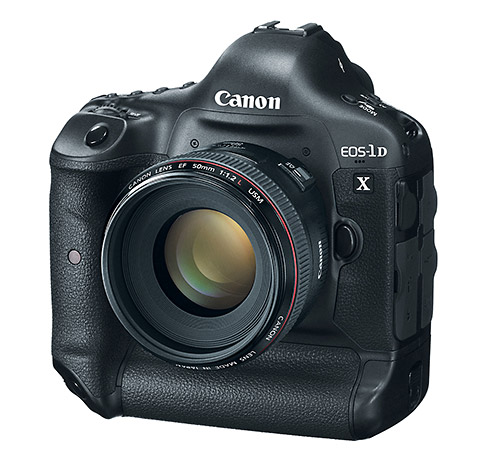 I would love to create in camera composites and the creative options there really have piqued my interest. I can think of  several subjects that would make this a killer feature.
Low light capabilities with reduced digital noise would be fantastic. Astrophotography would be a subject I'd like to revisit and I'm wondering how the High ISO values might translate to video as well. The 5D Mark II sucks in this area.
While everyone is bent out of shape on the lower megapixel sensor I'm not so hung up on it. It certainly is an eye catcher though. What is the real indicator of image quality with a sensor is pixel size and density that impacts noise characteristics. If the sensor creates higher quality images with far less noise at a lower megapixel count then I don't care if its  18, 20 or 36 (the rumored Nikon MP count). Any subject is going to be improved with less noise. The key will be to see if the reduction in noise with this configuration impacts perceived resolution. I doubt that will be the case.  I'm looking forward to seeing example images from the camera.
Additional video recording options with recording time codes and the possibility of lower light shooting with better ISO/Noise performance has caught my eye the most. The 1 series has never been the flagship for video so I'm wondering if the 5D Mark III might one up the 1D X on this front. Either way these improvements are nothing to scoff at. I'd love to experiment with lower light video work.
So in the end I'd still be doing the same type of landscape, nature and travel photography, but I'd be looking for openings to push the envelope given the new technology. What more could I get out of a scene in low light scenes such as during the blue hour. Will video be usable in such lighting conditions? Are astrophotography photos going to be that much more impressive with the low light capabilities of the 1D X? What cool things can I do with the in-camera image composite? I'd super eager to experiment with a 1D X to find out.
What would you do with the new capabilities of the Canon 1D X?
[tags]Canon, 1D X, technology, creativity[/tags]