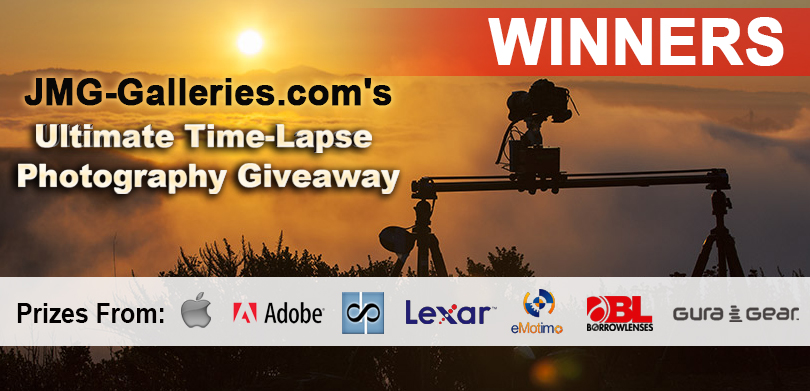 Last week was the conclusion of my Ultimate Time-Lapse Photography giveaway and today I'm happy to announce the winners.
A huge THANKS goes out to eMotimo and Dynamic Perception for donating the grand prize!  If you haven't already please follow and thank eMotimo and Dynamic Perception on Facebook .  Thanks to BorrowLenses.com, GuraGear, and Lexar for providing great bonus prizes and most importantly everyone that took part.
By now I'm sure you're itching to know who has won, so without further delay here are
the winners:
Adobe Photoshop CS6 Extended – Thomas O'Brien
Adobe After Effects CS6 – Michael Brown
Adobe Premiere Pro CS6 – Marc Donahue
Apple iPad 3 Retina Display (16GB WiFi) – Brittany Chasteen
Lexar 16GB 1000X CF Card – Jack Fusco
Gura Gear Camera Bag – Mehmet Yesiltas
$100 BorrowLenses.com Gift Certificates
Jimmy Arcade
Felicia Cracchiolo
Sean Parker
Grand Prize
eMotimo TB3 Black & Dynamic Perception Stage 0 Dolly System with a Quick Change 8 RPM & 21 RPM with MX2/AT2 Controller
Tim Clark
Thanks again to everyone for taking part and congratulations to the Tim Clark the grand prize winners.