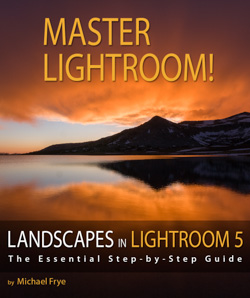 Friend and fellow landscape photographer Michael Frye has released a new ebook today:
Landscapes in Lightroom 5: The Essential Step-by-Step Guide 
Use code lr520 to save 20%
This discount is good through Sunday August 4th midnight PST.
Michael is equally as talented as a teacher as he is as a photographer. His ebook includes a great combination of tips, tricks, overview information, videos and even downloadable image files to practice on. The design is clean and most importantly the information is invaluable if you're looking to get the most out of Lightroom 5 with your landscape and nature photography.
Included in the ebook:
Lightroom 5 "Development Module" improvement/feature overview
Detailed workflow discussions and examples
Numerous comparisons of images processed with Lightroom 5, 4 and 3
8 videos detailing discussed techniques
DNG Raw file downloads to practice with as you read 6 LR development examples
and a lot more
Be sure to take advantage of the 20% discount with code lr520 and download a copy.