On a whim I decided to look back on my collective work in 2013 and see what gear I used most. Historically I've avoided doing this as my gear bag is never very deep. This past year though I took advantage of some perks at BorrowLenses.com where I could experiment with a variety of gear, gear that under normal circumstances would be too costly to buy. So what gear did I fall back on using more and more?
Here are the camera bodies I used through out 2013:

Here are the lenses I used through out 2013: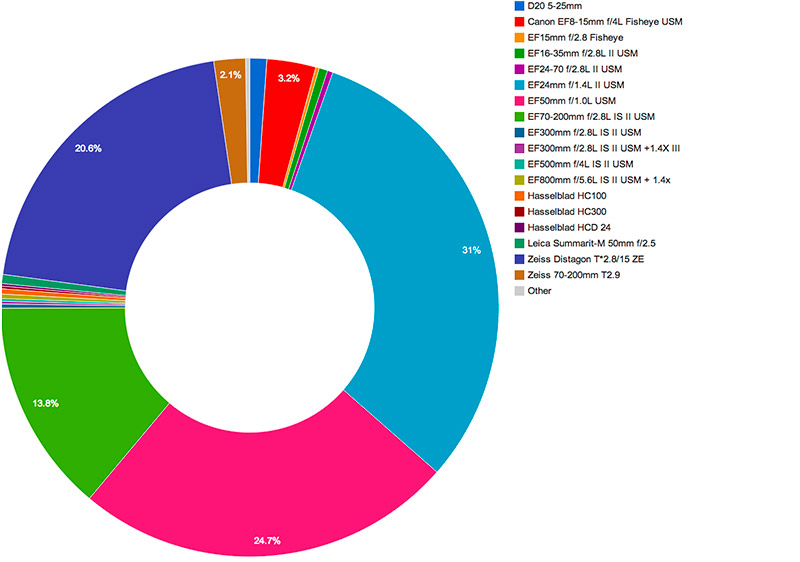 Here are the hard numbers for both lenses and cameras use in 2013: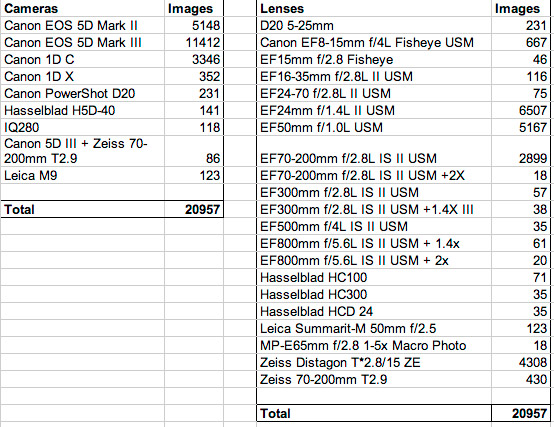 What It All Means
I shot a lot of timelapse sequences this year hence the high image count, but I still took the time to take some meaningful still photos. Not to mention I also took the time to enjoy family photography with a waterproof Canon D20 point and shoot.  Clearly I'm a Canon shooter, but I'm not necessarily in love with only Canon lenses. Over the course of the year I've come increasingly fond of the Zeiss Distagon f/2.8 15mm lens due to its overall sharpness, minimal distortion in the corners and it's predictable hard stop for infinite. If I didn't have access to the lens I'd buy it, but if buying it is not in your budget either then it's well worth renting the Zeiss 15mm at BorrowLenses.com. The Canon 5D III (which I rent multiple units of per shoot) has become my workhorse camera, but I still own the 5D Mark II. You'll likely see a trend where I used fast lenses the most (f/1.0 and f/1.4) and this is because I've been working on an astrolandscape project where I need to capture a lot of light while minimizing exposure times.  The Canon 24mm f/1.4 has been a great lens to use as it is both fast and well suited to a classical landscape look. My Canon 50mm f/1.0 continues to be my go to fun lens both for family, travel and even an occasional astrolandscape photograph. I tried my hand at some more exotic equipment including the Leica M9 rangefinder and Hasselblad medium format cameras. I was not a fan of the M9 mostly because the sensor is not well suited to low light photography creating super noisy images. The Hasselblad 4HX + IQ280 back was an exotic combination I'd love to revisit using, but will have to wait for a specific project. The combination of broad dynamic range and high resolution opened my eyes to a completely different realm of photographic possibilities.  The brief glimpse into the world of exotic photography equipment was fun, but I'm still most productive and financially solvent in the 35mm DSLR world. We'll have to see what comes of my gear use in 2014.