The eleventh episode of EXIF and Beyond, a video podcast, has been released. Photographing Yosemite National Park in the winter is discussed. Learn more about this amazing area and tips to capture great winter landscape photos of Yosemite valley.
Download the latest episode:
Yosemite Winter Photos
For the non-iTune listeners a streaming version of this podcast can be accessed here.
Thank you for listening. Please feel free to leave comments and feedback.
Take the Photographing Yosemite in the Winter Poll:
How many times have you visited and photographed Yosemite in the winter?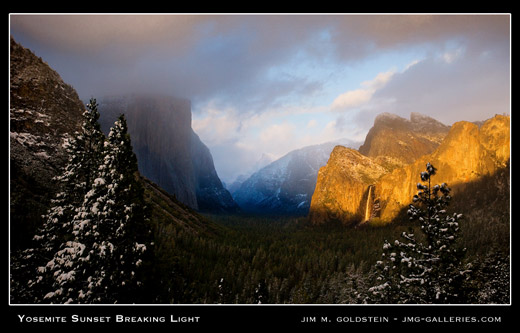 Yosemite Sunset Breaking Light, Yosemite National Park
[tags]Yosemite, winter, landscape, photos, EXIF and Beyond, podcast, National Park, photography, photographing, nature, wildlife[/tags]