I was a hold out when it came to digital photography. I love shooting wide so the prevalence of magnification factors was very unappealing. When I could afford a digital SLR that enabled me to get into the realm of 20mm equivalent, even if not enabled with a full frame sensor, I broke from my film camera.
That was in 2004 and since that time I've shot less than a dozen rolls of slide film versus tens of thousands of digital images. As much as I enjoy the immediate gratification of digital it still has its short comings (ex. extreme long exposures) and I've always intended to shoot film. The reality is that as much as I've intended to do this it's never happened. As a result my film has sat idle in my refrigerator for a very long time. You might say this is the most unused portion of my fridge.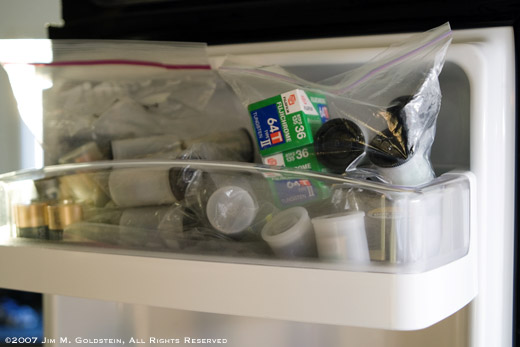 It's not like I haven't tried to use it. I've taken pre-packaged sets of film with me to use on trip. A little background to what that means… to make things easy I group film into Ziplock bags that are aimed at specific photo outings such as landscapes or night photography. At a moments notice I can grab a bag and be set for a particular type of shoot. In the end digital has just been too convenient.
I suppose another factor that contributed to my nearly complete immersion in digital photography is that the week I ordered my dSLR my slide scanner died. I think I've had the same 16 slides waiting to be scanned on my desk for 3 years. Someday just like I'll use my film, I'll scan these slides.
Curious to know what film I'm sitting on? Here is the breakdown (see photo below):
(3) rolls of Fuji T-64 Tungsten film
(7) rolls of Fuji Sensia 100
(2) rolls of Fuji 800 negative film
(1) roll of T-Max 400 B&W film
(1) roll of Kodak E100VS
(4) rolls of Fuji Provia 400F
(2) rolls of Fuji Provia 100F
(7) rolls of Fuji Velvia 50 (original chemistry)
(2) rolls of Fuji Velvia 100F
I'd love to make use of this film, but it never seems to happen. Am I the only one with this "film dilemma"? I can't imagine. I'm curious what other people are doing when in this situation. Did you sell it? Give it away? Lock away your dSLR and shoot film for a week/month? Do tell…
{democracy:5}

[tags]film, slide, digital, photography, dSLR, dilemma[/tags]