As noted yesterday my Monday photo outing was a lot of fun. I captured some landscape and nature photos that I'm proud to show and others that fell short. It is these botched photos of the day that I wanted to post and discuss this week.
Yesterday I posted The Good… a la the theme The Good, The Bad and The Ugly. Today I wanted to post what I considered an example of The Bad.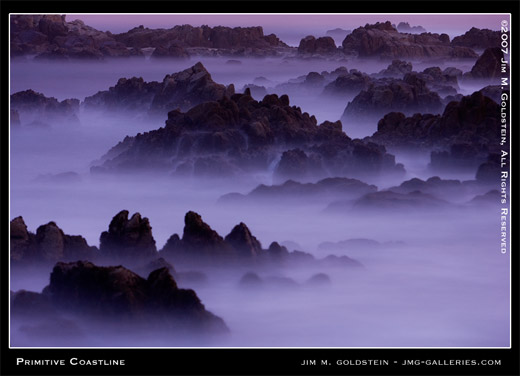 If you're like me you saw this and thought "Great! A really dramatic landscape that came out well". The problem is that this is a low resolution version of a much larger and more detailed image. Not unlike on my camera LCD screen I thought this came out when seeing it. After I got home and saw the large file I spent the remainder of my evening beating myself up for taking this photo with the wrong setting. You can barely make it out, but the foreground is in soft focus. The rocks should have a very sharp edge and unfortunately they're soft. Tired from a long day I mixed up my settings, not capturing the scene with a greater depth of field via a smaller aperture setting. The result is a soft focused image in the foreground and a well focused image in the background… all because I chose an aperture of f4 and set my focus manually to infinite. If I were to do it again I'd have set an aperture of f22 and manually focused on the rocks mid-scene. I have numerous images of a similar nature taken else where using the correct settings so I'm frustrated with my lack of focus and poor execution. In that regard this may very well be my most beautiful bad photo of the year.
[tags]California, coastline, coast, ocean, landscape, seascape[/tags]