Camera family that is…
After much saving and obsessing I've added a Canon 1Ds Mark III to my camera bag as of last week. If you picked up that I was posting less frequently last week now you know why. I've been spending my limited free time reading up on the manual and taking test shots here and there. The latest being the image below of the Golden Gate Bridge as seen from Baker Beach.
Many of you know that I wrote an article titled 5 Most Common Digital Photography Mistakes. As of Friday we can add another item to the list. Friday was my first opportunity to test my camera during the day. After configuring my camera tethered to my computer I threw things together quickly to bring my camera along while I walked my dogs. Finding a decent subject to photograph I snapped the shutter and quickly went to review my image via the LCD screen. The result… an embarrassing revelation that I did not have a CF card in the camera and even worse my spare CF cards were in my other camera bag. Given this experience you can guess how paranoid I've been since in making sure I have CF cards with me.
After I put my camera through its paces (CF cards included) over the next few weeks I'll post a mini-review.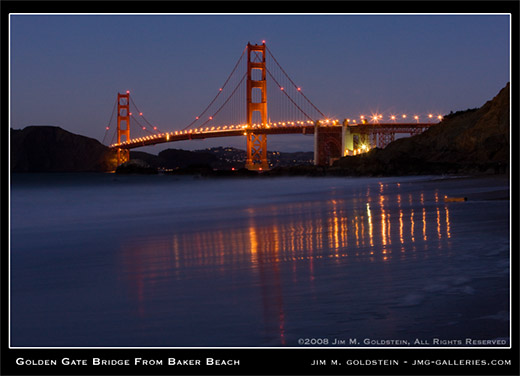 Golden Gate Bridge as seen from Baker Beach, San Francisco
[tags]Canon 1Ds Mark III, camera, body, San Francisco, Baker Beach, California, photography, photo[/tags]