Most of us are familiar with Batman and his secret lair the bat cave. It's where he hangs out to collect himself and experiment with new gear. Photographers are no Batman, but most have their very own "bat cave" to experiment with new equipment and techniques. For some photographers its a studio and for others its a specific part of town they're most familiar with.
This past weekend I was experimenting with a 24mm Tilt Shift lens and was hanging out at one of my two favorite places to experiment… the Golden Gate Bridge. I know… if only we were all so lucky, but my number one place to experiment is a much less pretentious location on the southern edge of San Francisco… Fort Funston.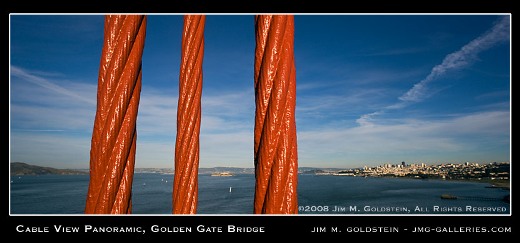 Cable View Panoramic, Golden Gate Bridge – San Francisco
This is a 3 image horizontal panoramic.
Between the cables is Alcatraz and in the distance is San Francisco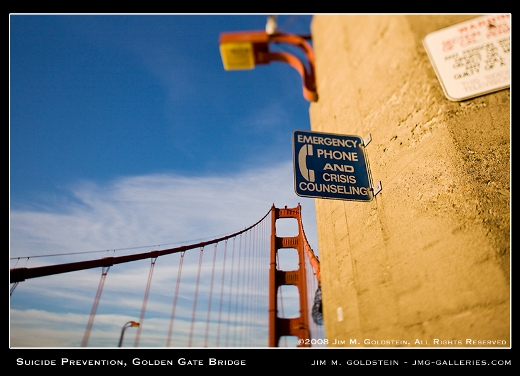 Suicide Prevention, Golden Gate Bridge – San Francisco
Note: I intentionally tweaked the tilt shift lens to
highlight my subject with a very thin plane of focus
Fort Funston has long been my favorite spot to experiment with new gear and techniques. The mix of military ruins, classic California coastline and beaches, hang gliders and dogs with their owners (its an off leash dog area) has provided me an amazing selection of subjects to work with. Looking back into my library of slides (yes I used to shoot film) there are numerous images from experimentation sessions. And since my transition to digital photography there are even more.

The Wall, Fort Funston – San Francisco
(Not taken with the 24mm Tilt Shift lens)
So where is your "secret photo spot"? Got a link? I want to see.
[tags]photography, California, Fort Funston, Golden Gate Bridge, canon, tilt shift, 24mm, secret, location, stock, photo[/tags]