This weekend in Yosemite proved to be quite a bit of fun. Fresh snow was not on tap, but the heavy snow from last weekend had the park buried. Road work was still underway along the northern loop of the roadway through the valley. This was a minor inconvenience and provided ample reason to take some extra time to explore the northern side of the valley by foot. One of the highlights seen in this area was this dated warning sign. Although dated in appearance the warning still holds true. A few hours later at Yosemite Village I saw someone trying to have a Disney moment with a few deer feeding nearby. I'm not sure what prompts people to think they can pet the wild animals. Needless to say he was unsuccessful.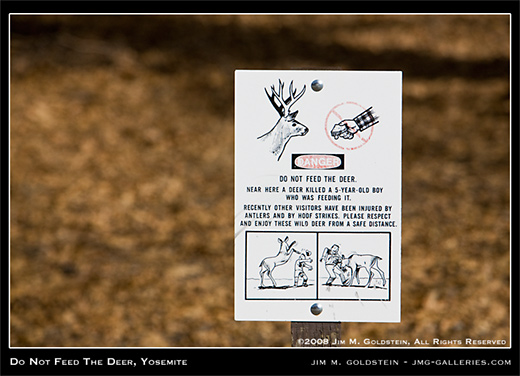 Do Not Feed The Deer, Yosemite
"Near here a deer killed a 5-year old boy who was feeding it.
Recently other visitors have been injured by antlers
and by hoof strikes. Please respect and enjoy these
wild deer from a safe distance."
Wildlife was strangely absent during the trip until late Sunday. I should clarify… absent from where I was hiking before that time. Stellar Jays, Deer, Grouse, and even a Bobcat were seen and photographed. It goes with out saying that landscape photography opportunities were endless. Below is an early evening view of Half Dome. More photos to come…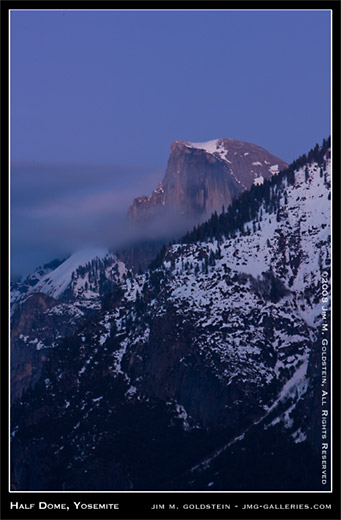 Half Dome, Yosemite

[tags]Yosemite, National Park, NPS, California, nature, landscape, photo, photography, stock, Half Dome, deer, wildlife[/tags]