Earlier today Flickr announced on their blog they've kicked off Phase 2 of their effort to build the Flickr Collection on Getty Images by sending out invitations to various Flickr photographers. (See Building the Flickr Collection on Getty Images) I was one of the many photographers who received an invitation and decided to check it out. To cut to the chase for now I'm going to be passing on the opportunity and below are the reasons why, but first how the Flickr-Getty arrangement works.
How it Works
Getty representatives through Flickr are sending out email invitations with an initial list of images with in your photostream that have been selected for inclusion into the Flickr Collection on Getty Images. A link is provided in the invitation to enroll in the program, fill out paperwork (contributors agreement, tax docs, etc.) and submit high resolution images to be evaluated for acceptance.
The Flickr Collection is going to be a branded pool of images that Getty markets similar to their Stone, Taxi, Photonica, Photodisc, etc. collections. For now it would seem they're looking to launch the Flickr Collection on Getty in March.
The big caveat… when you get an invitation you're not being asked to take part as a photographer like a normal Getty contributor. Only invited images at this time are eligible for addition to the Flickr Collection. This means to have an image considered it has to be on Flickr. Have other images from the same shoot that you'd like to submit for acceptance? You can't. All images to be considered for review have to be on Flickr and have to be found by Getty photo editors choosing images. This is substantial departure from how images are normally submitted, reviewed and accepted by Getty and other stock agencies. Typically photographers are chosen to be contributors and sets of photographs are submitted for review, acceptance and ultimate submission to a stock agency's collection.
The between the line on this is that Getty sees opportunity with individual Flickr images not Flickr photographers. This is Getty's way of picking up good one-off images with out committing to photographers who might be inconsistent or below the standard they'd hold normal Getty contributors to. This isn't just conjecture, such interpretation is made from off-line communication in my inquiry to this program.
What You Need to Know Before Accepting Your Flickr Collection Invitation
When I evaluate stock agencies to work with I first check three things: Exclusivity, Royalties and Rights to Control Claims. These three things will tell you how you're valued by the agency and give you a window to the overhead the company is carrying to stay in business.
Exclusivity
Is the agreement I'm being asked to sign going to restrict my ability to market and sell my work through other outlets?


Click to Enlarge
In the case of the Flickr-Getty offer… it is an exclusive agreement. There is a limitation on selling images that are similar or "sister images" for commercial purposes. Use of photographs selected by Getty to sell on your behalf are OK to use for personal or self promotion. How convenient that they also include the acceptability of "Photo Sharing" in these terms. Per the terms its also OK to sell prints or books as long as they are limited edition and/or signed. Note if a Getty selected image has been previously sold through a prior licensing agreement either individually or through another agency it is then ineligible for submission.
For those that are new to stock photography "exclusivity" should be approached very carefully. Many old timers recommend avoiding exclusivity like the plague due to the limiting nature of it. It's tough enough to make a buck these days with photography, but signing an exclusive deal is a sure fire way to cut off other income opportunities. What I find most troubling about the Getty agreement it is that they don't permit the sale of your work on your own web site. Granted for some this may be a non-factor as not everyone wants to deal with the headache of licensing their own work directly. I suppose my outlook on this is that if you're serious enough to sell your photography through an agency you should be capable of selling your own work individually and reserve the option to do so.
These days its tough to get any stock representation without "exclusivity" and the justification is always that the agency can secure higher prices for each license. I have photographs with agencies that don't require "exclusivity" and I have photographs at another agency that does. If you enter into an exclusive agreement with an agency you better be dead certain that you think the limitations imposed on you are well worth it.
In my case since I have an exclusive agreement with one agency I'm not keen on entering into another. Managing images so that you send images to one and not another can be a real headache both organizationally and in choosing what image goes where. I also plan on selling and licensing my photography through my web site so having the limitation imposed by Getty in their agreement is a non-starter.
Royalties
How much of an image license do I get to keep?


Click to Enlarge
The amount offered to photographers by Getty is low. Rights Managed / Rights Ready images get the most 30%. That's right 70% of every Getty sale goes to Getty. If you opt in to sell images as Royalty Free you get 20% of each sale and Getty keeps 80%. The justification for this is the reach that Getty has to image buyers and the overall performance of their platform. No doubt it is the case that Getty has the reach and traffic to pull in buyers, but they also have a lot of overhead as a business. Clearly keeping 70-80% of a sale is to pay for their large organization.
The question you need to ask yourself is, "Can you do better?" and "Can you find an agency that is more photographer friendly?". I doubt there are many agencies out there that can pull in the volume of traffic that Getty can, but stock sales are about relationships with buyers. While the number of boutique agencies out there are far fewer than in days past there are some solid agencies out there run by solid people very knowledgeable of this industry. To find them it takes work and a bit of research.
Note: I'll warn you now I won't field questions asking me which agencies to pursue. I just don't have the bandwidth to do this, but use Google and ask around. I'm sure people commenting to this post will chime in with agencies they use or recommend.
Rights to Control Claims
If someone infringes my work sold by Getty and there is a settlement how much do I keep?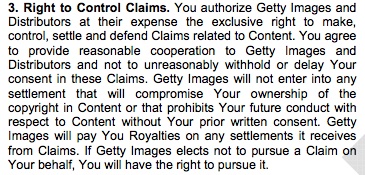 Click to Enlarge
As with most stock agency agreements, it will detail your agreement to let the stock agency pursue infringement cases on your behalf for images that you allow them to sell. What is less clear is that most agreements will very subtly inform you that the amount of any reward will be paid to you at the same royalty rate of a normal sale. Keep in mind copyrighted photographs can yield penalties up to $150,000 per infringement if the infringement is found to be willfully committed (See Copyrights: Protecting My Photography). Assuming $100,000 were granted to you and Getty, you'd see $20-30,000 of that judgement likely less legal fees incurred by Getty.
Here's where I have a problem. I agree that the lawyers should get their pay and an agency fighting for you should get a cut of a judgement, but if infringement happens and you've taken the efforts to copyright your work with the Library of Congress I don't see why a 3rd party should get the bulk of a settlement.
The huge red flag for me with this is that since your image has to be on Flickr and Flickr has done nothing to address security holes and tighten up their system to avoid infringement; it would seem to me Getty's greatest means of income will be going after infringers taking advantage of Flickr's lackadaisical security. Perhaps this is overly cynical, but at the rate I've had images infringed on Flickr I can't help but feel that I'd be signing over numerous infringement cases to Getty by taking part.
Never Punch A Gift Horse In The Mouth
To be very clear I'm not telling anyone not to take part if invited by Getty to contribute to the Flickr Collection. Everyone needs to evaluate their situation individually. It's a great opportunity for many, but I also remind you to do your research to see if it is truly the best opportunity for you to pursue. To be honest I'm never one to turn away from an income opportunity. Even if I feel the terms provided are not the most favorable I still have to admit I'm tempted to get my foot in the door, but in the end I'll be staying resolute and passing on my invitation until the terms are more favorable. To that thought if one really wants to be a Getty contributor (mind you the terms are no different) with out the Flickr strings you can apply to take part in their normal collection. The Flickr collection is but their newest sub-brand that they're developing and not the only way to take part. For those whose invitation to the Flickr collection is their first stock photography experience do your research and then make the decision.
[tags]Getty, Flickr Collection, Stock, Photography, Flickr[/tags]