The work of Mario Zanaria is the fourth of five prints to highlight from my Buying Prints from Your Favorite Photographers blog project.
To be honest I got caught off guard with Mario's photography. I can't remember exactly how I stumbled on to Mario's flickr photostream, but I did and I'm really happy that it happened. I really enjoy Mario's photography and he never ceases to amaze me. His photograph titled "S." in his "Naked Truth" series struck a nerve with me. The connection of his model with him and his camera is something that I see very rarely. While it is a nude, there is no nudity, as the pose and framing conceals anything that would be revealing. For those curious to see this photograph click on the "read more" link below, but out of courtesy for those at work and who may not feel the same way about the photo as I do I've put it out of view so you can opt out of viewing it or wait to view it while at home.
Earlier in the week I discussed how the photo of Senator Barack Obama struck a nerve with my wife and I. In this instance this photo struck a nerve with my wife in the exact opposite way. My wife is not happy that I picked up this photo, but the experience revolving around our different perceptions of this photo has been an eye opener. As mentioned when I look at this photo I see nothing but a technically fantastic photo with an incredible moment captured. To me I see nothing but artistry and photographic mastery… something to collect. I find the gaze of his model hypnotizing and any sense of nudity is non-existent to me. On the flip-side my wife sees a naked woman and expressed concern that I would purchase a photo such as this.
I still scratch my head over this past situation as I see this photo no differently than any other photo I purchased. This photo, as with the others, are technically excellent and visually engaging. My reaction to this photo is equivalent to the other nature photographs I've purchased. I suppose this makes me a photography geek. The best analogy I can make is even geekier. In the movie the Matrix, people could look at a screen of passing code and see what was going on at a deeper level… interpreting the code to picture what someone was doing or what scene was unfolding. For myself I suppose the experience is similar but the reverse. I see a photograph and see not just the magical moment captured, but everything going on behind the scenes. It is this depth of perception to such imagery that adds to my appreciation of the work. With that said my enjoyment of such work is compounded by the essence of a photograph whether it is a magical moment between model and photographer or magic lighting combined with an amazing series of natural events. No photograph is the same between photographers. Each photographer brings their own experience, vision and artistic interpretation to a scene or situation and this is a huge reason why I love photography.
I am really happy to have discovered Mario's photography and am elated to have added this photograph to my nascent, but growing collection of fine art. While this won't be going up at home I am looking forward to including it in a larger collection to display at a later time.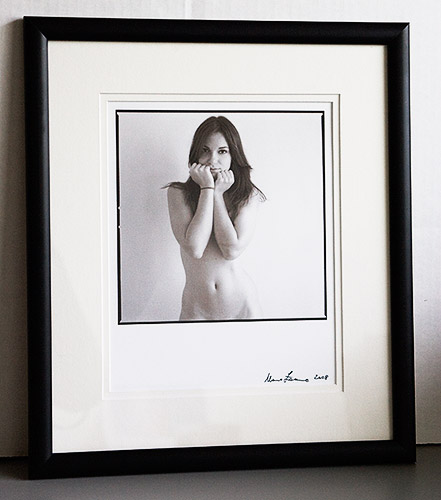 [tags]Mario Zanaria, Photography, fine art[/tags]