Sadly the statement "Film is dead." has been played out far too much over the past few years. While running errands in my neighborhood I noticed a long standing local photo processing business had closed its doors. The casual reader might quickly dismiss this, but I urge you not to. Why?
We all read articles and inflammatory posts online about film being dead, but in this instance it really is. Yes, perhaps if you split hairs, it's film processing that is dead in my neighborhood, but actually it is film. You can't really have one with out the other.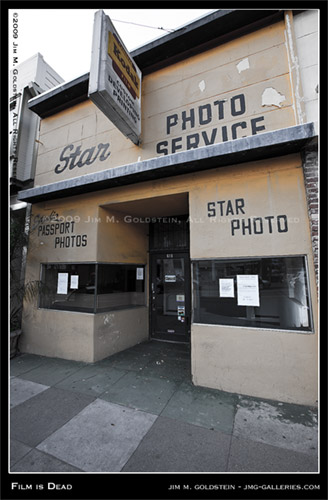 Click to Enlarge
I was a film shooter for several years and intentionally learned film photography even when I could have got in the door when digital first came out. Having gone to local stores like this on a regular basis and establishing relationships with those that run them, seeing this store closed up really struck a nerve with me. This isn't just a case of the economy collapsing, this was a true watershed moment to remember. I had to pull off the road when I saw this and quickly got my camera out, ironically of course a digital camera.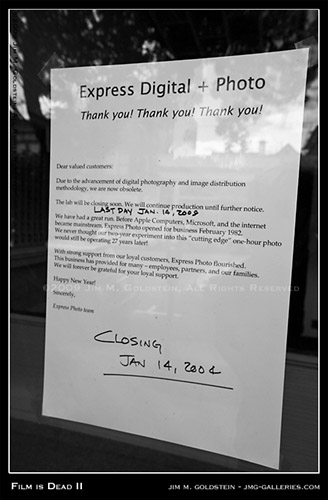 Click to Enlarge
Getting up close to the window I noticed a letter to the stores patrons and I can't get this one line out of my head.
Due to the advancement of digital photography and image distribution methodology, we are now obsolete.
I already know the title of my post will generate backlash from those who have recently discovered film, but if you have yet to witness a store closure like this in your neighborhood take note. With out processing services film photography is quickly being relegated to die hard enthusiasts willing to put up with scarce development resources or capable of developing their own work . There may likely be a couple of businesses that support mail-order development, but by and large the photography coroner can put a toe tag on film. Film is dead.
I can't help but feel guilty. I have a refrigerator drawer full of film still, unused for a little over 4 years. If I had used it would this business have survived? Sadly no. More and more film production is falling by the wayside. So many film types and film producers could be named I'm embarrassed to list them. Everywhere you turn there is a digital camera. Take note if you haven't already. On some level everybody is a photographer either with their cell phones cameras, point and shoot cameras or dSLRs.
I've been interested in photography for as long as I can remember and I still can't believe how prevalent digital cameras are these days. The last day of the 2008 summer Olympics nearly every athlete caught on TV at the closing ceremony carried a digital camera of some sort. The last concert I went to was full of people snapping photos with their phones. Rubberneckers on the road now snap photos as they pass by with their camera phones. It's endless and with such infinite applications and availability film has no chance. We all knew this was coming of course and we've heard about it coming for sometime. There certainly will be those that are in denial still, but for most I think we can safely say film is dead.
Living in a large city I'd imagine I'm one of the last to see the neighborhood film development store close, but it raises a question I'd like to ask you. When did you realize film is dead? If you don't feel it is tell me why.
[tags]photography, film, film is dead, stock photo[/tags]