The answer…
Submit a DVD full of your photos to the Library of Congress through the U.S. Postal Service.
Today I received a letter from the United States Copyright Office that a relatively recent copyright filing could not be processed because the U.S. Postal Service irradiated my U.S. Priority Mail envelope containing a letter and DVD to the point of oblivion. 
I understand the need be security conscious after the 2001 Anthrax scare, but to irradiate mail to the point that a CD or DVD will not work!? That's a first I've heard of that happening. I've mailed dozens of CD's and DVD's full of photographs in past Copyright filings with the Library of Congress since 2001, but this is the first time I've had a submission experience problems because of being irradiated by the USPS. Something just seems off with this. See my souvenir letter below.
Perhaps this is part of the campaign to get people to use the online submission process versus mailing in paper based filings. Apparently the increase in fees wasn't enough of a deterrent.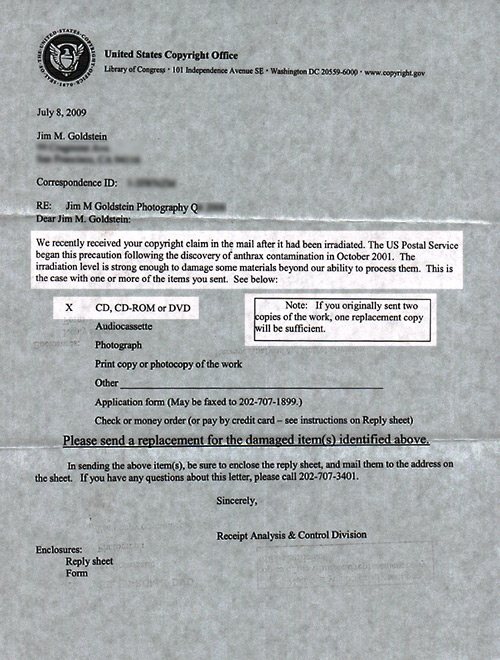 I'm really trying not to bring politics into this, but didn't the accused Anthrax suspect die in August of 2008? Is it really necessary to keep this going to the point that the government can't do business?  Does this mean that President Obama isn't a Netflix subscriber?
On a serious note in case something unexpected were to happen I do burn duplicate copies of my Copyright submissions. Resubmitting the damaged DVD won't be a problem because of this practice. I just never expected I'd have to resubmit a DVD because of being irradiated to death. What happened to the good old days when packages just vanished and resurfaced 40 years later?
[tags]Library of Congress, Copyright, Irradiate, Irradiation, 9/11, National Security, Anthrax[/tags]