I've been itching to test out the Canon 17mm f/4 tilt-shift lens for a long time and thanks to BorrowLenses as a courtesy this lens was made available to me for testing. I am far from being a camera gear tech-head, so if you want to get MTF chart info and other technical minutia I have provided links below to other reviews of this lens that I think are great & include greater tech info. The purpose of my time with this lens was to write up a practical review… in other words share with you how this lens held up in real-world conditions.
Tilt – Expanded Depth of Field & Sharpness
One of the greatest benefits of a tilt-shift lens is being able to expend depth of field of the scene you're photographing without sacrificing sharpness. The 17mm doesn't disappoint on this feature. With tilt movement up to +/- 6.5 degrees there is a lot of room to maneuver at this wide focal length. As you'll see below sharpness is maintained flawlessly at the focal point of my photo. The expanded depth of field to the background and extreme edge of the foreground are quite pronounced, as you'll notice with the tilt the text of the plaque becomes much sharper in these regions.
Shift – Minimizing Perspective Distortion
The other great benefit of a tilt-shift lens is being able to minimize perspective distortion that manifests itself as a lean in tall objects. This particular lens has movement of 12mm and with the wide focal length works quite effectively for even the tallest of subjects. What also sets this lens apart is that it is a member of the latest generation of Canon tilt-shift lenses where tilt and shift movement are no longer exclusively independent from each other.  It's now possible to make tilt and shift adjustments simultaneously.
Sharpness
Being a prime lens you'd expect sharpness and being an L class lens you'd expect extreme sharpness particularly for the hefty $2,500 price tag. Again even at an extreme aperture to maximize depth of field, often where images soften notably in the corners for wide lenses, it held its own quite well. This was of particular interest to me for nature and landscape images. At f/22 the corners do become a tad soft but not nearly as soft as you'll find with other wide zooms. Unless you're a pixel peeper this lens produces impressive images with a great deal of sharpness.
Lens Flare & Relection
As you've probably noticed this lens has an extreme front element. The front element bulbs out a great deal and makes shielding the lens from other light sources difficult if not impossible. Due to the ultra wide field of view to support the tilt movement of the lens there is no clean way to protect the lens from picking up flare… well at least not with out growing extra arms and hands. There are two things you can do about lens flare with this lens…
1. Minimize shooting strait into or around closely oriented light sources
2. Embrace and learn to love lens flare.
To be hones I had minimal issue with this during daylight hours even when taking photos on the beach, but I had a great deal of problems with lens flare while taking photos in the evening.
Tactile Impressions
This is a solid lens both in context to construction and weight. Even with my heavy Canon 1Ds Mark III with RRS L-bracket there was no way for my camera to remain upright. The lens is heavier than most and does likely will take some getting used to if you're accustomed to kit lenses. If you've used other L lenses before then you won't be in for any huge surprise in managing this lens. The knobs/controls for adjusting tilt and shift are quite sturdy and benefit from a tension adjustment knob making it easier or harder to tilt or shift the lens. Because of the bulging front element it is not possible to use any filters that screw on or mount to the front of the lens. This is hardly a concern in the age of digital Graduated Neutral Density filters. As for use of a polarizer in most instances with ultra wide lenses it's never a great idea to use them as they introduce drastic color gradients in subjects with varying light intensity (ex. sunny sky). Lastly the one thing to account for (other than getting amazing images) are the looks & questions of others that walk past you when you're using the lens. I was stopped more using this lens than when I have a telephoto lens on my camera. The unusual bulging front element of the lens attracts more than attention, but also dust & mist. I found if there was any moisture in the air that it was often necessary to wipe down the lens to avoid even more lens flare. Unlike the 15mm fisheye the 17mm tilt-shift lens has a rock solid lens cap that does not fall off easily. In fact the lens cap is really well engineered.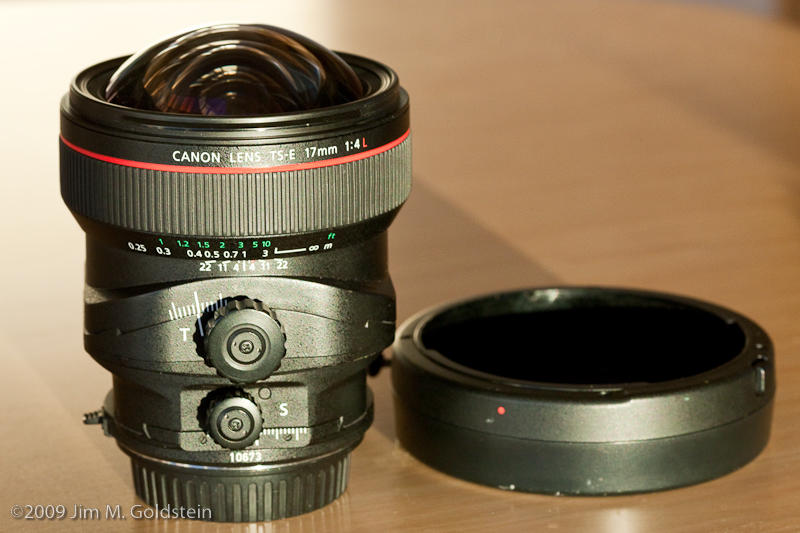 Would I Buy This Lens?
The only thing keeping me from running out to add this lens to my collection is the steep price. I would not hesitate to own this lens and in fact it is at the top of my list for any future purchase. For now renting the lens through BorrowLenses is more than adequate.
Basic Tech Specs
Max Aperture: f/4
Min Aperture: f/22
Field of View: 104°
Closest Focal Distance: 0.82 feet (9.8 inches)
8 Blade Iris
Weight: 28.9 oz.
Diameter: 3.5 inches
Length: 4.2 inches
Other Great Reviews of the Canon TS-E 17mm f/4 & Resources
[tags]Canon, Lens, Review, Canon TS-E 17mm f/4, Tilt-Shift[/tags]