Easy Release


A month ago quite a bit of buzz started to circulate with in the Twitter photography community about Easy Release (iTunes Link), a program that enables you to create model and property releases on your iPhone incorporating a digital signature of subjects and/or property owners. The potential immediately grabbed my attention and I approached the application publisher for a review copy. The review of the application was the easy part, but my background research on the acceptability of "digital signatures" in the form of an electronic touchscreen signature took much longer. Now that my research is complete here is the review…
Easy Release is just that… easy to configure, easy to use and easy to see its value. I give the team behind Easy Release a lot of credit as creating an application that is simple to use is quite a difficult task. The added perk to Easy Release is that it makes obtaining, logging and sending releases a very cool process. The out of the box thinking to obtain releases digitally is exactly the type of application I've been waiting for to maximize the business potential of my iPhone.
The Process (Ex. For a Model):
Click the "Plus" sign to create a new model or property release
Enter the "Shoot Name" and "Shoot Reference ID"
Enter Shoot location information "Shoot Country" and "Shoot Region/State"
Enter the Shoot Date
Enter the Model's Name
Take a photo with your iPhone of your model
Enter the Model's date of birth, gender and ethnicity.
Enter the Model's address
Enter the Model's Parent's name if a minor
Enter the Model's Email address and phone number
Enter the name of a Witness
Review the Release summary
Sign your signature (the photographer) with your finger on the screen
Let your Model review the agreement. They tap to agree.
Model signs the release using their finger on the screen.
Click to create a PDF of the signature and send it to your model & yourself via email
Fully written out the process seems long, but it takes only a few short minutes to complete.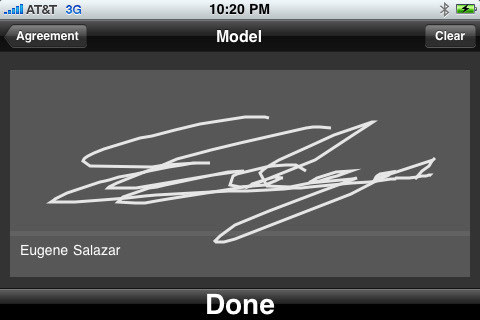 Easy Release


Additional Features & Real-World Experience
The application allows you to customize your releases with a logo, specify a default language from 12 translations or add your own custom release text.
Of course it would be easy for me to just idly claim Easy Release is easy to use, but having tested this in the field I can attest that not one subject I asked to use the application had a problem or showed any confusion when reviewing the release or signing it. Logistically using Easy Release was much simpler than dealing with a paper release and fumbling for a pen. The convenience to email the release in PDF form to both the model and the photographer is also a huge time saver. Lastly and most importantly the biggest benefit was speeding up the process to obtain a signature.
What to Be Aware of…
The one weakness of Easy Release is that some stock agencies might not yet accept "digital signatures". At the time I received my review copy of the application it was unclear to me if Getty accepted "digital signatures" in the form of an electronic touchscreen signature. Right off the bat I was able to confirm with Rasmus Rasmussen (@theprint) that iStock does not yet accept these type of "digital signatures" and prefers pen on paper signatures. I had to wait a few weeks to hear back officially from Getty as to whether "digital signatures" in this form were currently accepted. The response: "…the Getty legal team is reviewing this, but at this time digital signatures are not allowed on releases." That being said the people behind the application are former Getty employees and are aware of this. If you're outside of the Getty sphere and/or work independently then this is a non-issue.
| | |
| --- | --- |
| Rating: | |
Easy Release is a solid application that is ultra intuitive to use. Not only did it live up to my expectations, it surpassed them. Whether you're a semi-professional or full-time working pro photographer this is a must have application to have at your fingertips. For those that have been holding off on upgrading to an iPhone, this app alone might be reason enough to do so.
[tags]photography, release, iPhone, app, Easy Release, model release, property release[/tags]