In my previous post Thoughts on the iPad: Where Will Your Audience Be Next Year? I noted that current tablet computer trends are painting a picture of a transformed landscape where one's audience might be interacting with online content in a radically different manner and frequency. Not only does mobile access through a device like the iPad impact navigation & content structure, it has the ability to shift expectation in how web viewers pay for content. There are some very clear signs pointing to this shifting trend and it begs the question, "Has the code to web revenue been cracked?"
Advent of the App Store
One thing is certain Apple's iTunes App store has changed the landscape before us since its release in mid-2008. With the release of the iPhone 2.0 OS software came the App Store, supplementing the iTunes music store, and soon others were quickly trying to duplicate the wild success of this newly created platform.  Now Apps downloads are on course to  surpass music downloads from the Apple iTunes store by the end of 2010. In roughly 2 years time that is an amazing accomplishment considering the current rate of music sales on iTunes has taken 7 years to reach its current level.  The larger phenomenon of the app craze has even spawned an App convention that is taking place here in San Francisco this week.
While Apple wasn't the first to create an App platform (Facebooks App platform was released in 2007), they're the first to tie it to a wildly popular consumer device, the iPad. As previously noted in my first post to this series All Eyes Are On The iPad. Are Yours?, it has been predicted that Apple will ship 12.9 million units this year, with shipments rising to 36.5 million next year and 50.4 million in 2012 and by any means that should be an eye opener. An eye opener because the combination of device sales and App download forecasts might just be indicators of a perfect storm on the horizon that shifts how many people interact with content on the web.
Revenue: Has the Web Found It?
Will the web as we know it be replaced by Apps? I doubt it, but where the web failed to convert user activity into revenue Apps just might be the long sought after holy grail many web entrepreneurs have been waiting for. While Apps have proven to be a potentially lucrative revenue creator not all App stores are created equally. In February 2010 Distimo reported that 75% of Apple Apps and 43% of Android Apps were paid apps and later in August 2010 Pingdom reported similar findings that 70% of Apple Apps and 36% of Android Apps were paid apps.
Interesting findings from the May 2010 AdMob Mobile Metrics report is that on average users of the iOS (Apple) and Android platforms spend at least 79 minutes a day using apps (note: Apple iOS users spend 89 minutes a day) and download 9 apps per month. The user activity is definitely a positive as most web sites are lucky to break the double digits in user activity sessions. The phenomenon of app dowloading has spawned an interesting trend as well… a mild addiction to downloading apps. In passing I've talked to several iPad/iPhone users that enjoy downloading apps almost as much as using the apps themselves. Nielsen reports that iPhone users for example download on average 40 apps versus Android users at 25 apps, both of which are an increase over 2009 findings.
Pricing
App pricing best practices seems to be the big mystery at the moment and is something I'm still researching. One interesting piece of data I surfaced concludes that downloads are not linked to price. This was in relation to game apps which might very well carry a different customer expectation to the photography market. While I can't say much in definitive terms about app pricing I can say that higher prices will only be supported by app content/services that are of high value to users. There have been no shortage of apps commanding upward of $89.99 or more that have found themselves in the iTunes top-revenue/grossing list. Ultimately pricing will have to be tailored to the nature of the app. A photographer may very well want to release a free portfolio app in an effort to draw as many eyes as possible to their work versus charging for an eBook.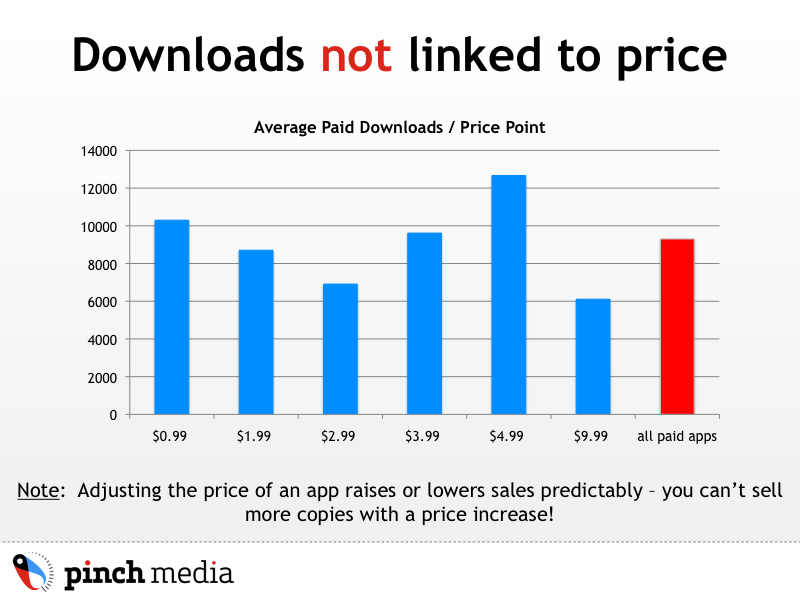 Looking into the Crystal Ball?
The web certainly will not be shrinking into oblivion, but content or services being produced to generate revenue may very well be predisposed to the app world.  What apps have going for them, unlike standard web content, is that they come bundled with the expectation they cost money to acquire and use. For the truly creative who frame content of value in an app there is certainly money to be made. On the flip-side of that sentiment with hundreds of thousands of apps in the current marketplace not all apps cost money. Free is not just an attempt to standout, for the savvy developer, it's part of a calculated strategy. It's important to note that vast majority of apps are not likely to be profitable, falling into the category of loss-leaders (see my series starting with Assumptions of Free and Taylor Davidson's great article Free isn't a problem, it's an opportunity), but they do offer a unique opportunity to engage & introduce your work and services to others.
In my eye the iPad holds great promise for photographers with the right application. As to how photographers can get the most out of the iPad and take advantage of these trends you'll want to read my next post on the subject. Stay tuned…
Related Article:
Only 13% of Aduls Pay for Apps – Fast Company (published hours after this post)
Additional thought…
If the app market is such a huge success with so few users, and already generating billions of dollars in revenue, how big will it become when it apps are as ubiquitous among adults as texting and taking pictures?
[tags]photography, photo, Apple, iPad, app[/tags]