Ever since evangelizing the importance of social media to fellow photographers in 2006, I've long yearned for a tool to help balance photo/video editing time with the incredibly important task of marketing myself on social media. After years of research and prototyping I'm happy to announce a new Kickstarter project to realize my dream, a mouse designed especially for photographers who are super active on social media.
I've titled this project the Photographers's Social Media Mouse.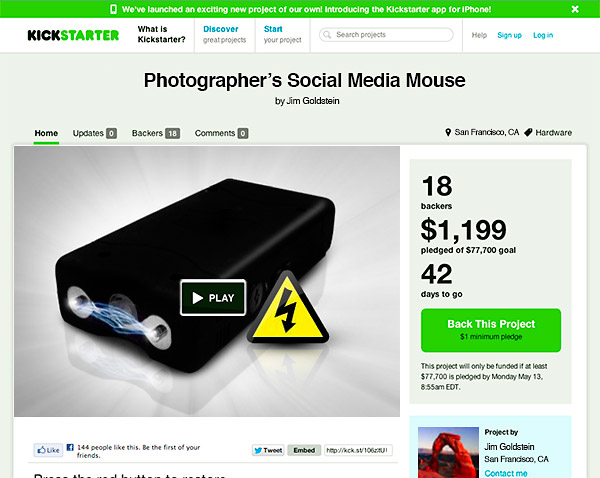 How it works is quite simple. Employing Bluetooth wireless technology the Photographer's Social Media Mouse detects when a photographer has navigated to a web browser. With in 10 seconds of detecting activity on Facebook, Twitter, Google+, Flickr, Instagram, 500px, MySpace, and Friendster a gentle yet firm 7,800,000 volt shock is applied to the finger of the user. The momentary sensation causes brief paralysis in the arm reminding the user that more important editing or business communications are the order of the day.
Additional Features
Designed for travel – More comfortable than a touchpad, instant-on performance for maximum productivity on the road
Smart power management – Long battery life, on & off switch, power-saving modes and a low-battery indicator light
Precision optical performance – 1000-dpi optical sensor technology for incredibly smooth, precise tracking
Convenient carrying case – Comes with pouch for easy storage.
Important product information: Batteries are not included, use of mouse is not recommended by left handed users to avoid direct current to the heart and avoid data loss by keeping mouse on an approved non-conductive mouse pad.
Your support is needed to make this a reality. To contribute visit my Kickstarter page.
Product Details
Product Dimensions: 8.5 x 7 x 2.5 inches
Shipping Weight: 11.2 ounces
Shipping: Currently, item can be shipped only within the U.S.
Note: The Photographer's Social Media Mouse is restricted and cannot be shipped to CT, IL, HI, MA, MI, NJ, NY, RI, and WI. They are also restricted in Annapolis, MD; Baltimore, MD; Baltimore County, MD; Chicago, IL; Dension/Crawford County, IA; Washington DC; and Philadelphia, PA. Any orders for these areas/states will be canceled.