At the close of every year I like to take a look at the web metric trends on my web site via Google Analytics and forecast how I might need to adapt over the coming year(s). Yesterday I reviewed the trends of mobile web traffic and today I'll dive into the larger trends of referring traffic from social media web sites. If you're familiar with my past writing on social media trends and strategies you'll know I've always been a big proponent of social media and it's potential to help photographers. In the time I've been writing on social media and it's benefits there has always been the lingering question, "What is the real impact of taking part in Social Media?". That's a multi-dimensional question that can be answered in relation to revenue, web traffic, brand awareness, time, mental health, etc. For the sake of simplicity let's take a look at referring web traffic to my web site JMG-Galleries over the course of 7 years and across 9 social media sites.
First I learned a few things that were not so obvious in the process of evaluating the referring traffic from social media web sites:
Trends were equally determined by my use of a particular site, as it was about the popularity of that site. (i.e. A site is only as good as you make use of it, no matter how popular/unpopular it may be.)
Social media sites have a life span and are subject to fluctuations in popularity that may impact traffic to your site.
The most talked about social media sites (those with great PR) are not always the best performers.
Honing in on a social media site with the right audience (even if smaller) that is active can often be more important than focusing on a sites total audience size.
All Social Media Sites Compared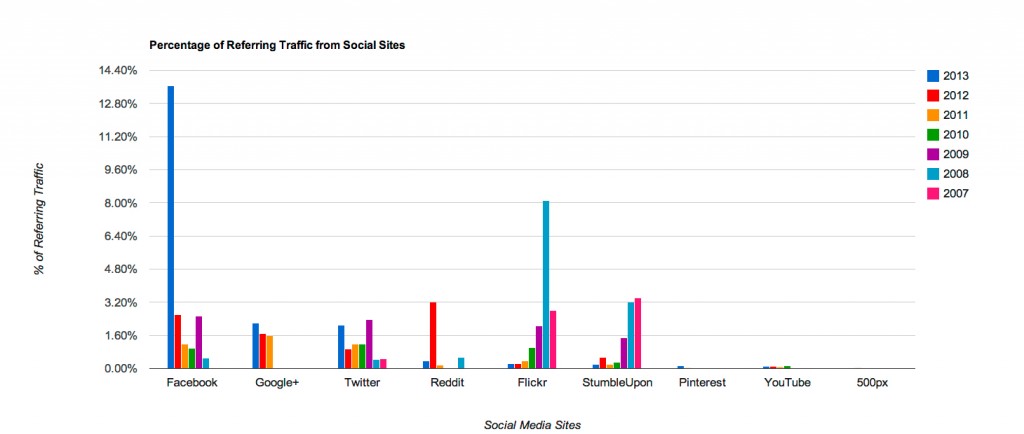 The first thing you'll likely notice is that the big standouts are Facebook and Flickr, but take note of the year difference (2013 vs 2008). What fascinated me when taking in this data the first time was the rise and decline of certain social media web sites. Part of the fluctuation was a reflection a web sites overall trending popularity by its users and on the flip side my personal increase/lack of interest in a site.  The other telling thing about this graph is being able to size up the potential impact of competitor sites (ex. Flickr vs 500px). There's a lot more to this graph when you dive into each site so let's get a little more granular…
"Content is King" Sites
Reddit over the lifespan of my web site has always been the source of unexpected and pleasant surprises generating healthy bumps in traffic. I've never seeded an article there and only created an account there a few months ago. The community there can be brutal on people that pimp themselves so I advise against trying it. What ultimately caught the eye of Reddit users and generated traffic to my site was informative and thought provoking content. The same is true of  YouTube even though I've never been a big video creator. What's cool about YouTube is that it is essentially the 2nd largest search engine (if you lump it in to the search category), so if you create good content there it's highly likely it will eventually be found. If it's the right content you might see a delayed impact to referring traffic. Case in point is a review I did of a Canon 800mm f/5.6 lens from BorrowLenses.com.  The first 2 months it fell flat but it's since picked up interest garnering nearly 200K views.
Flickr vs 500px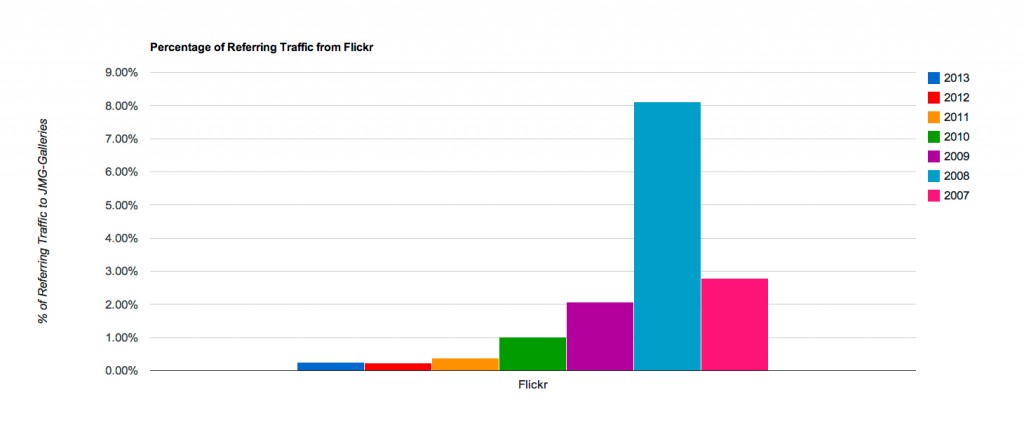 First and foremost I'm not taking a stand on which site is better. While both Flickr and 500px are photo sharing sites I've used them differently. I used to plug my web site a lot in image descriptions on Flickr particularly when I was running my podcast EXIF and Beyond. While I still plug my web site in image descriptions on 500px I've cut down on my photo sharing on 500px and Flickr. This has been mostly a reflection of my dwindling free time since having my son.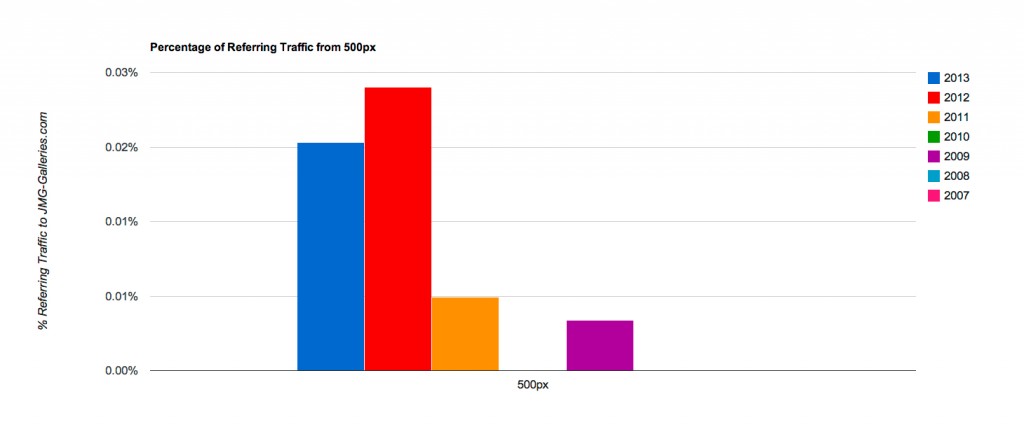 To date I have 63 images on my 500px account and on my Flickr account I have 1038 photos. Given that Flickr performs very well as an image search engine I still receive decent referral traffic from the site even though I'm not very active there. We'll see how 500px performs over time. One dimension of these two sites that I can't escape mentioning is that even though Flickr has it's flaws it still has a robust audience. I nearly wrote it off, but after posting a few photos there this year I'll continue posting photos there. Both Flickr and 500px have ways of highlighting photos to their larger audience through Explore (Flickr) and Pulse (500px) which can boost traffic to your site. Having your images surface in these algorithm driven highlight systems can be hit or miss and an easy sink hole to get sucked into if you're big on gaming systems. That said systems that can be gamed are always being changed as was the case with 500px's Pulse in November.
Hyped Sites Then & Now – StumbleUpon vs Pinterest
Pinterest took the photography community by storm, albeit more so because of copyright concerns. That never scared me off, but what did was its poor performance. While other photographers hailed it as the biggest thing since sliced bread I've never seen it generate great referral traffic. My Pinterest account is still active,  I'll pin my blog posts and announcements there from time to time and I'll monitor what of my work is being pinned. Other than that I've backed off aggressively courting Pinterest users/traffic. One caveat that I will add to this is that Pinterest has the potential to be great for certain types of photography/photographers. The demographic is heavily weighted toward young females, a perfect target audience for wedding photographers.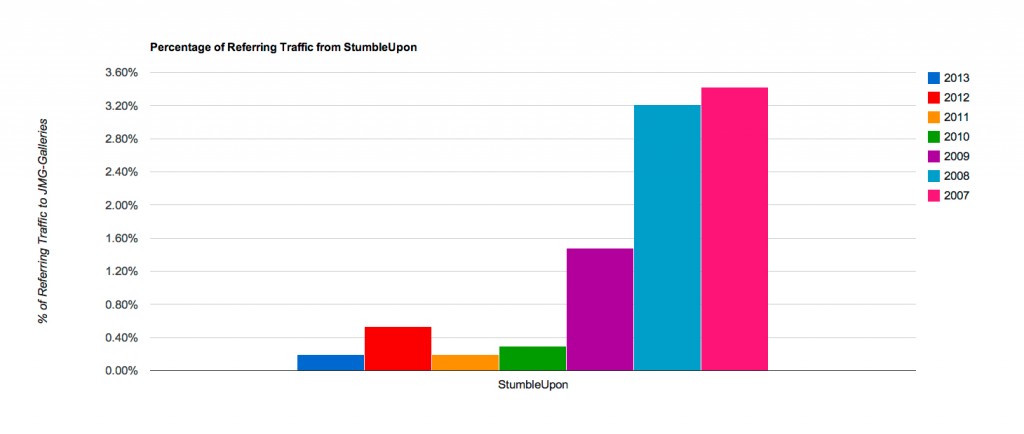 StumbleUpon on the other hand not only received hype it actually performed. I never was an active Stumbler, but my site benefited from the activity of Stumblers that followed my blog. One thing that is obvious from the chart above is that the activity of people coming from StumbleUpon has dropped sharply. My educated guess here is that StumbleUpon has been supplanted by Facebook and/or StumbleUpon users that followed my blog have dropped off for one reason or another. My money is on the Facebook effect.
 The Giants – Facebook vs Google+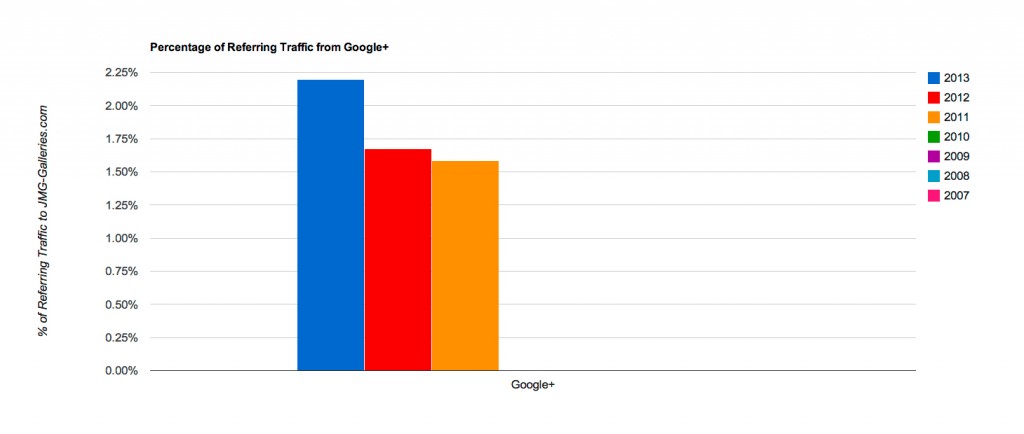 Like many photographers I have a love-hate relationship with Google+ and Facebook. Google+ is very photographer friendly, but it's a bit all over the place with a semi-scattered feature set (communities, pages, auto-this&that, Picassa integration, circles, etc.)  Facebook is the king of social activity, but has shot itself in the foot repeatedly with photographers regarding their terms of use and privacy policies. Google+ is interesting because I have a very large following there, but over time I've tried to minimize self-promotion unless something special is happening like an eBook discount, giveaway or blog project. Due to my busy schedule the past year, I have not been posting my photos with the same frequency as when I first started my account. Still my referral traffic is on the rise even with fewer photos shared, but I attribute this to being a bit more focused on my self-promotion amid sharing interesting content from other sources and even other photographers.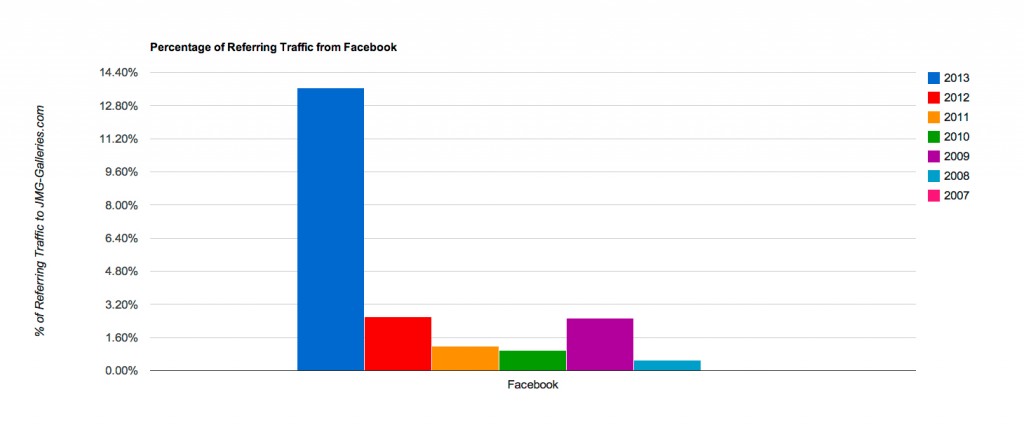 I was quick to create a personal Facebook page when Facebook opened its doors to non-college students (2006), but slow to launch a business page (2010). I was never super active on my personal page, but active enough it would seem. What helped in the early days was connecting my blog to my Facebook page so that new blog posts would display in my timeline automatically. Now I'm less fond of the automatic updates and am leaning toward killing this in 2014. One thing that Facebook deserves a lot of credit for is creating a feature rich business page that has an "easy" time making its way into my fans's timeline. Google+ could learn a lesson or two on that front.  I don't post a lot on my business page and share photos conservatively. This shows in the lower numbers in the chart above (2011/2010), but the jump in 2013 can be attributed to my sharing photos on my fan page and in groups where some of my updates have gone viral. I also have been experimenting with promoted posts, but those have been directing people to another domain and should have no impact to these numbers. One thing about Facebook that has me on edge is how their timeline algorithm has recently changed and Facebook's increasing slant toward paid promotion. A publicly traded company has to create earnings, but I don't have to like it nor take part. We'll see how things play out.
Twitter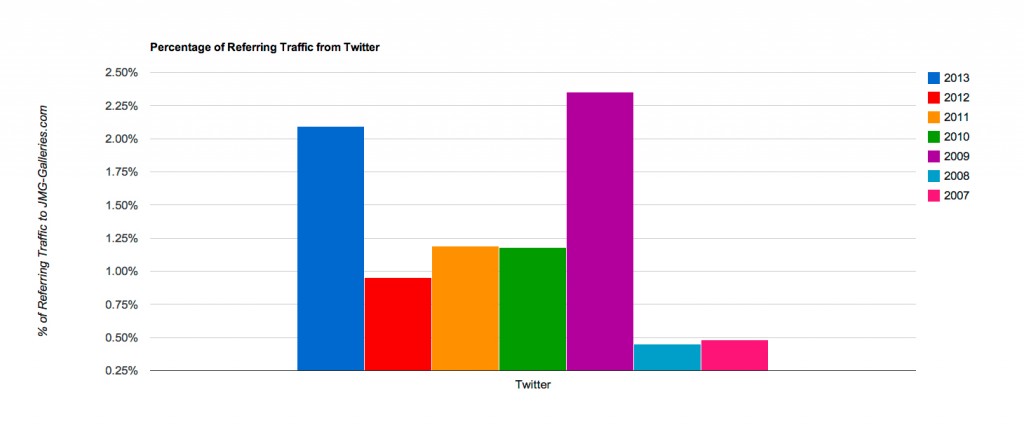 I still love Twitter, but that's because it compliments my incessant reading and news junkie tendencies. I was rather surprised that the referral traffic wasn't higher for Twitter, but it's still decent. 2013 and 2009 were good years for traffic, but I don't recall doing anything drastically different. I thought posting frequency might be behind the higher referral traffic numbers, but I've posted less in 2013 than in years prior and I likely was posting a lot in 2009.  Seeing the stark differences in posting behavior I doubt frequency has anything to do with it. Twitter to me also falls under the category of "Content is King" especially if you're a content creator.  If anything I'm guessing great content begets referral traffic especially if your great content is being retweeted and shared.
Concluding Thoughts
As it relates to referring traffic I have no regrets in taking part in Social Media and my prior enthusiasm for it still holds. I think it is still a worthy use of time, resources and money.  I'm still digesting this data so I will certainly be taking it into consideration as I plan out and ramp up my social media activity in 2014.