Dynamic range, in relation to photography, most commonly describes the light sensitivity range of a photographic medium whether slide/print film or a digital sensor.
Unlike other definitions of Dynamic Range I think it's important to discuss the relationship of the human eye and brain and what we determine as the standard of dynamic range. The eye is in all intents and purposes a sensor that can detect texture, shape and color with great sensitivity. Our brain, with years of learned understanding of how the world works and is constructed, quickly layers information together from detected light ranges to create an image of what is before us. As a result with out thinking we see the world with a high level of fidelity and detect detail from dark shadows to bright highlights.
Photographers often become frustrated because the tools at our disposal lack the ability to recreate the full range of light we inherently see. For film and digital alike, photographers think in terms of stops of light (referring to f/stop). It's widely accepted that film has a dynamic range of 4-8 stops, digital sensors have a theoretical dynamic range of 10-14 stops and the human eye a dynamic range of 20-24 stops*.
Note: *The fixed dynamic range of our retina is about 6 stops, but exposure is variably adjusted chemically and by our iris as it contracts and expands.
Due to the disparate range of light detected between these mediums and our eye, photographic images and even prints have a perceivable difference in appearance compared to the true scene we see with our naked eye. Photographers using their artistic license have used the limited dynamic range of film or digital sensors to create different effects whether silhouettes or High Dynamic Range Imaging.
Dynamic Range in Digital Photography by Sean McHugh
Dynamic Range of the Human Eye – Wikipedia
The Eye and the Camera – Luminous Landscape
Example:
Note that for this slide film exposure of Half Dome below, the dynamic range of light and resulting detail isn't equivalent to what you might see with your naked eye. Detail is challenging to see in both the highlights of the snow and the shadows of the trees and valley wall.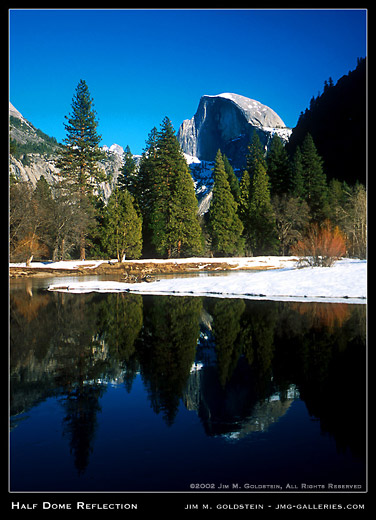 [tags]dynamic range, photography, terminology, light, sensitivity, human, eye, digital, sensor, film[/tags]