One of the greatest challenges facing photographers is dealing with the limitations of film or digital cameras in regard to Dynamic Range.  Over the years photographers have been and continue to be very creative in managing the limited range of light in which film or digital sensors can capture. In an effort to best reproduce what our eyes/brain see, photographers have developed techniques that balance the exposure of scenes with light ranges too great for film or digital sensors to handle.  Two techniques most often used to do this include the use of Graduated Neutral Density filters and now HDR image processing.
The differences between these two techniques are critical to distinguish in that one, GND filters, are for all intents and purposes a pre-processing technique, while HDR is a post-processing technique. GND filters enable photographers to manually adjust how much light from bright portions of a scene reaches ones film/sensor when the photo is taken. HDR on the other hand is the blending of multiple exposures on a computer to create a single image with a dynamic range that depending on the settings can look similar to what the human eye/brain might see. While both of these techiques can work well they do generate different looks.
Graduated Neutral Density filters in essence are plastic or glass filters with a graduated neutral gray color coating. The transition between the graduated gray to the clear portion of the filter can either be "hard" or "soft". Hard GND filters have a more defined and abrupt transition while Soft GND filters have a broader and more gradual transition. As to which type you should use depends on the scene you photograph. Some scenes will have a well defined horizon line such as an ocean sunset photo in which a hard GND filter will work well, while a lake sunrise photo with a treeline may require the more gradual transition provided with a soft GND filter. Using the right GND filter type will make the filters use transparent to the viewer of your photograph.
Hard and Soft Graduated Neutral Density Filters

Photo courtesy of Ron Niebrugge
An example of a scene captured with and without a Soft 3-Stop Graduated Neutral Density filter. Note the detail in the sky that is recovered with the use of the filter.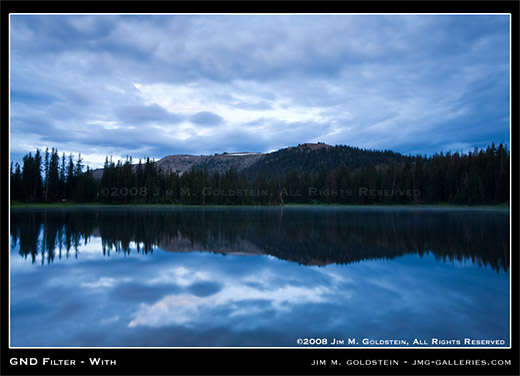 With the use of a Graduated Neutral Density filter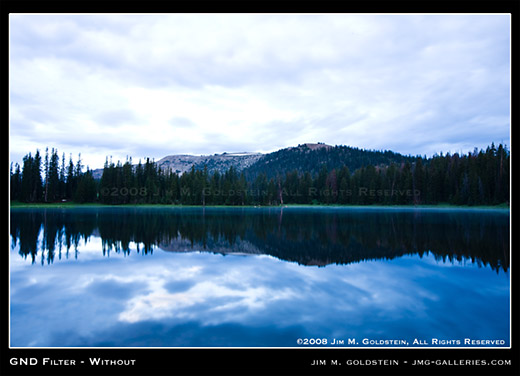 Without the use of a Graduated Neutral Density filter
Other write ups on this subject:
Graduated Neutral Density Filters – Niebrugge Images
Graduated Neutral Density Filters – Wikipedia
[tags]photo, photography, terminology, Graduated Neutral Density, filter[/tags]