Last week in my post "How The Rights To Your Photo Are Being Hijacked Through Photo Contests & Social Media" I mentioned that social media sites like Facebook were grabbing the rights of submitted photos as many photo contests are now doing. Clearly this trend to grab the rights of submitted photography by any organization is alarming.
After my initial post I decided to take a closer look at how Facebook references images as I used the site through out the week. As I accessed friends profile pages I'd check to see how images were being referenced in their personal photos section and/or through Facebook applications. What I found really alarmed me.
As noted in my original post I found it unseemly if not unethical that any organization would conceal a rights grab of user-generated content (photography, music, lyrics, writing, etc.) by burying it in pages of legalese. If the terms in the Terms of Use weren't confusing enough for the average person (see below) it gets even more confusing. Facebook is unique among social media sites in that they support an application platform. Independently created Facebook applications enable members to take quizzes, aggregate content from blogs and other social media sites, give gifts, post photos in picture frames, etc.
What I found is that unknowingly people using applications that reference photos are in fact indirectly posting photos to Facebook subjecting them to the excessively far-reaching terms specified in their Terms of Use. It's not very obvious but many applications that you'd think would reference images from their source location (say a blog for example via Flog Blog) are in fact duplicating images and hosting them on Facebook. The net result being images hosted on Facebook as though you had manually uploaded them. The distinction legally is identical, but is far from obvious for the end user.
Want to know if the photo you're seeing on Facebook is hosted in Facebook? Right click on the image and view properties. What you'll find is that ALL copies of your images are hosted on a Facebook server (example domains: "photos-d.ak.facebook.com", "photos-921.ll.facebook.com", etc.)
When you post User Content to the Site, you authorize and direct us to make such copies thereof as we deem necessary in order to facilitate the posting and storage of the User Content on the Site. By posting User Content to any part of the Site, you automatically grant, and you represent and warrant that you have the right to grant, to the Company an irrevocable, perpetual, non-exclusive, transferable, fully paid, worldwide license (with the right to sublicense) to use, copy, publicly perform, publicly display, reformat, translate, excerpt (in whole or in part) and distribute such User Content for any purpose, commercial, advertising, or otherwise, on or in connection with the Site or the promotion thereof, to prepare derivative works of, or incorporate into other works, such User Content, and to grant and authorize sublicenses of the foregoing. You may remove your User Content from the Site at any time. If you choose to remove your User Content, the license granted above will automatically expire, however you acknowledge that the Company may retain archived copies of your User Content. Facebook does not assert any ownership over your User Content; rather, as between us and you, subject to the rights granted to us in these Terms, you retain full ownership of all of your User Content and any intellectual property rights or other proprietary rights associated with your User Content.
– Facebook Terms of Use as of today 2/26/08
How does Facebook's approach differ and why does it matter?
Some of the more common Facebook applications reference and pull content via an RSS feed. RSS feeds as they behave in most other applications such as RSS Readers reference content from their source location. For example I host my images on my web server and reference/link to them in my blog entries. RSS Readers then display my blog entry and image in a web browser. The image in my blog post is then displayed and served from my server. Facebook on the other hand reads the RSS feed and then duplicates the image from the source server and then serves up the image from a Facebook server.
Image Location on Facebook
Note: Although this exemplifies a Flickr RSS feed the same is true of my blog RSS feed via the "Flog Blog" application.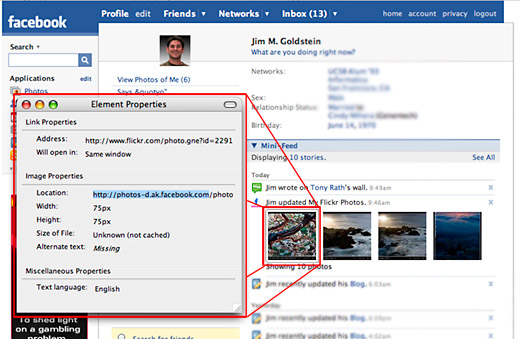 Image Location on Google Reader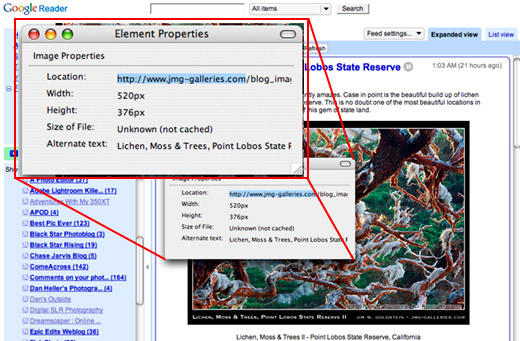 The combination of this content duplication and the far-reaching terms of their Terms of Use should alarm every Facebook user not just photographers. I am certain that components of the quoted Terms of Use regarding user-generated content are necessary. Displaying content online is a worldwide affair and not every image is formatted to fit Facebook's layout. Facebook chooses to go farther than is necessary. In all my time posting photos online I have never seen a site claim the right to "sublicense" submitted work. Much of the terms "irrevocable", "perpetual", "fully paid", etc. are excessively one sided particularly in combination with their follow-up term of grabbing the right to "distribute such User Content for any purpose, commercial, advertising, or otherwise".
Let it be known no web site is free. It may seem like you're getting to use a free web site, but companies like Facebook, Google, etc. are providing online services in exchange for your personal data that is used to serve advertising; advertising that they charge a pretty penny to display. Whether you realize it or not you are bartering your personal information for their online services. Facebook is taking it one step further by grabbing the rights to user-generated content namely your photography.
For many giving up privacy by serving up your personal information to such companies is an acceptable sacrifice. That acceptable sacrifice has its limits as Facebook found out with their Beacon online ad system in late 2007. I would argue that Facebook to date has dodged a bullet in that most people are unaware of the broad terms that amount to a rights grab of user generated content on their site. Facebook should be pressured to revise their Terms of Use as they were pressured to modify Beacon. Until that time I will no longer have my photography displayed in any form on Facebook.
[tags]Facebook, rights, copyright, photo, photography, ToU, Terms of Use, Google, advertising, Beacon, UGC, user generated content[/tags]