The latest buzz across the web in the past couple of days has been the increased awareness to the outrageous modifications to the Terms of Use (ToU) at Facebook and the impact to Creatives, particularly photographers. As a photographer who is also a web marketing and social media consultant I want to share with you why the new Terms of Use at Facebook should alarm you and why you should contact Facebook to change it, whether you plan to continue to use the service, or consider disabling your Facebook account in protest.
One year ago I wrote an online article titled Facebook's Rights Grab: How Far Does It Go? detailing the unorthodox and exceptionally broad manner by which Facebook claimed rights to submitted content. At that time I made note that based on the broad terms I would no longer be uploading any of my photographic work to their site. In fact I went further and urged friends and family not to upload my photography to Facebook. Over the past year I've also urged other photographers I knew to avoid uploading content to Facebook as well. After 7000+ page views of my article, numerous off-shoot articles online raising the alarm bell about the Facebook ToU and Facebook responds less than a year later by expanding their claim to content contributed by their users.
Why You Should Be Extremely Alarmed
If Facebook ever alters their Terms of Use they reserve the right to not notify you.
"We reserve the right, at our sole discretion, to change or delete portions of these Terms at any time without further notice.
If you use Facebook after they change their Terms of Use, whether you're aware of the change or not, you're agreeing to the terms. In years past the best practice for companies was to notify their users of a ToU change and to prompt them to actively agree to the terms before they could resume use of an online service. Seeing as how Facebook does not do this, the following changes to their ToU come across as very sneaky and should make you question their motives and trustworthiness.
Diamonds and Now Facebook are Forever
Facebook now claims the right to use your submitted content (photographs, music, videos, etc.) even after you decide to disable your account. I should point out that you cannot delete an account once you create one on Facebook, they can only be disabled.
As quoted in my earlier post Facebook's Rights Grab: How Far Does It Go? the terms of use as of 2/26/07 was as such:
When you post User Content to the Site, you authorize and direct us to make such copies thereof as we deem necessary in order to facilitate the posting and storage of the User Content on the Site. By posting User Content to any part of the Site, you automatically grant, and you represent and warrant that you have the right to grant, to the Company an irrevocable, perpetual, non-exclusive, transferable, fully paid, worldwide license (with the right to sublicense) to use, copy, publicly perform, publicly display, reformat, translate, excerpt (in whole or in part) and distribute such User Content for any purpose, commercial, advertising, or otherwise, on or in connection with the Site or the promotion thereof, to prepare derivative works of, or incorporate into other works, such User Content, and to grant and authorize sublicenses of the foregoing. You may remove your User Content from the Site at any time. If you choose to remove your User Content, the license granted above will automatically expire, however you acknowledge that the Company may retain archived copies of your User Content. Facebook does not assert any ownership over your User Content; rather, as between us and you, subject to the rights granted to us in these Terms, you retain full ownership of all of your User Content and any intellectual property rights or other proprietary rights associated with your User Content.
– Facebook Terms of Use as of today 2/26/08
The bold text referenced above has now been removed and the License section of the ToU has been amended (see below) with new rights claims leading us to the following point..
Facebook's Rights Claim to User Content Just Expanded Exponentially
Thought you were safe by not uploading content to Facebook? Think again. The new Licensing section of the ToU now goes even farther. According to the latest terms, any content that is linked to on Facebook including anything linked via the ubiquitous "share this link" to Facebook is now fair game for Facebook to claim license to use indefinitely.  If the terms weren't stacked in Facebook's favor before they're more so now as Facebook reserves the right to force you to remove their bookmark to Facebook links on your site while they claim the right to continue to use your content whether you've voluntarily stopped using their service or they've banned you from using their service.
You are solely responsible for the User Content that you Post on or through the Facebook Service. You hereby grant Facebook an irrevocable, perpetual, non-exclusive, transferable, fully paid, worldwide license (with the right to sublicense) to (a) use, copy, publish, stream, store, retain, publicly perform or display, transmit, scan, reformat, modify, edit, frame, translate, excerpt, adapt, create derivative works and distribute (through multiple tiers), any User Content you (i) Post on or in connection with the Facebook Service or the promotion thereof subject only to your privacy settings or (ii) enable a user to Post, including by offering a Share Link on your website and (b) to use your name, likeness and image for any purpose, including commercial or advertising, each of (a) and (b) on or in connection with the Facebook Service or the promotion thereof. You represent and warrant that you have all rights and permissions to grant the foregoing licenses.

If you own or control a website, you may place Facebook's share link button, logo and/or text (a "Share Link"), including all trademarks therein, on your website for the sole purpose of enabling users to Post links or content from your website on the Facebook Service. By offering a Share Link on your website, you agree, represent and warrant that you will not place a Share Link on any page containing content that would violate these Terms if Posted on the Facebook Service. The rights granted in this paragraph may be revoked by us at any time in our sole discretion, and upon such termination, you will immediately remove all Share Links from your website. – Facebook Terms of Use as of today 2/16/09
While Facebook informs you that you retain the ownership & copyright of your submitted content to their service, the ability to license it to the extent they claim is as good as saying they own it.
Facebook's Missing Privacy Setting
What should alarm you most of all is that the one caveat in the License section of the ToU addressing your "ability" to reduce the scope of their rights claim by adjusting your Privacy Settings. At this time there are no settings to manage how your uploaded or referenced copyrighted work may or may not be used. In fact I can't see how they'll update the privacy settings to encompass their open ended rights claim. I'm looking forward to seeing the check box next to the item labeled "We can use your submitted content for other future and unforeseen uses of your work". Would anyone in their right mind check such a privacy setting? Of course not, but Facebook embeds such a claim in their current Terms of Use.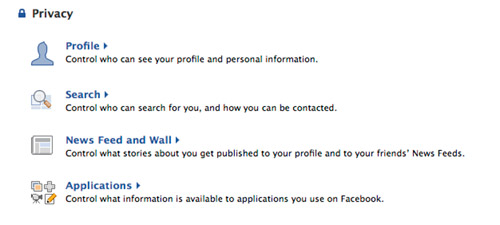 Social Media: It's About the Masses, Not the Individual
Facebook's Terms of Use is aimed at the individual and albeit has to be, but it is inherently flawed in one key facet. Facebook's success has been built on the viral nature in which content is spread through their network. Their Newsfeed module and Application platform is proof of this. One cannot think of Facebook and not think of receiving an update by a friend or a quiz invite. Here in lies the problem to Facebooks most recent rights claim. You may opt to not take part in their service, but if someone finds and submits your work with out prior authorization Facebook assumes rights to use your work. Such was the case with the "derivative" work of the Sarah Palin Bikini Gun photo. As discussed in my EXIF and Beyond podcast with the creator of the Sarah Palin Bikini Gun photo its propagation to the world began and exploded on Facebook before spreading like wildfire across the Internet. Content creators now need to fear such a viral spread of their work not just from with in Facebook, but from the any web source working its way into the Facebook community.
It's important to note that Facebook has taken on a very strategic business model of developing a "closed community" to mine user data. That's right, everything you enter or reveal about yourself on Facebook whether in your profile or through a Facebook application, is mined to develop pinpoint accurate demographic information to secure advertising revenue. This is why Facebook has a $1,000,000,000+ market value. Conversely Google mines data for it's advertising engine in an "open community", the web as a whole (note: also in a "closed community" via their Gmail application). The difference between the two is how they claim rights to shared content. I take a healthy skeptical stance on every company including Google even with their "You can make money without doing evil" mantra, but nothing raises my skepticism more than the recent assertions by Facebook's legal counsel,
"We used to have several different documents that outlined what people could and could not do on Facebook, but now we're consolidating all this information to one central place." – Facebook Blog 2/4/09
Then again…
Why be skeptical of a corporate lawyer? Their sole priority is to put the company they work for in the best standing possible for any foreseeable legal dispute.
and…
The Emperor Has No Clothes
Mark Zuckerberg, the CEO of Facebook, shared the following to explain the central justification for the Terms of Use changes:
"Our philosophy is that people own their information and control who they share it with." – Facebook Blog 2/16/09
Frankly Mark's explanation does nothing to address the concern over the open ended licensing that Facebook claims. In fact the quote above could not be more of a red herring to the heart of the issue. Facebook's "closed community" business model predicates that Facebook seek the ability to use submitted user content in as broad a fashion as possible and protect itself from unlawful use and spread of user submitted content. Except what their corporate lawyers have done is gone one step further by claiming rights to content outside of their "closed community" whether the creator of that content is a Facebook member or not.  In actuality Facebook's philosophy as defined by their actions is that Facebook has the right to use member information & content how ever they see fit, even if they don't know the end result of that claim today.
Do I Have Your Attention Yet?
The February 2009 revision to the Facebook Terms of Use is the most egregious rights grab in the history of the Internet that I've seen. To date I've always been a proponent from a web marketing perspective to interact with your target audience in whatever community they are a member of whether Flickr, Facebook, Twitter, etc. Taking part in such communities inherently has pros and cons. While these communities have their flaws they also have an upside to them such as increased exposure, networking, etc. Ultimately you need to decide where your comfort level is balancing the pros and cons to your personal and/or business objectives.
What Should You Do If You Are A Facebook Member?
If the recent revisions to the ToU alarm you and you want to continue using Facebook I recommend you…
Contact Facebook to let them know of your concern and displeasure in the hope they revise them to be more friendly to copyright holders.
If you have uploaded content directly to Facebook at a minimum I recommend you remove it until the ToU are more realigned to be more equitable.
If you could not be more alarmed by these developments then you may want to consider disabling your Facebook account under "Settings" > "Account Settings" > "Deactivate Account". If you take this extreme measure be sure to use the provided form to explain why you're doing so. Accounts can always be reactivated since Facebook accounts are never deleted.
Spread the word to your peers about this on going issue through email, other social media sites and as ironic as it sounds… Facebook.
What Should You Do If You're A Professional Creative (Photographer, Musician, Videographer, etc.)?
If the recent revisions to the ToU alarm you…
Raise this issue with Facebook directly by any means possible.
Recruit professional associations you're a member of to tackle this issue with Facebook.
Update your contracts to restrict use of your work on social media web sites.
Spread the word to your peers about this on going issue.
Related Articles
Facebook's New Terms Of Service: "We Can Do Anything We Want With Your Content. Forever." – The Consumerist
What Facebook's revised terms of use mean for your content – web.tech.law
Facebook: Relax, we won't sell your photos – CNET
Correction provided by Jonathan Bailey at PlagiarismToday
You can delete your account at Facebook via the following link:
http://www.facebook.com/help/contact.php?show_form=delete_account
Do not submit this form without full thought to deleting your account. There is no turning back. It'll be interesting to see if with enough pressure Facebook corrects course on the Terms of Use.
[tags]Facebook, Copyright, Rights Grab, Terms of Use, Social Media[/tags]